Get Out: Play Hopscotch
We are a participant in the Amazon Services LLC Associates Program, an affiliate advertising program designed to provide a means for us to earn fees by linking to Amazon.com and affiliated sites. We participate in other affiliate programs as well. For more details, please see our disclosure policy.
Hopscotch will get you exercise and get you OUT.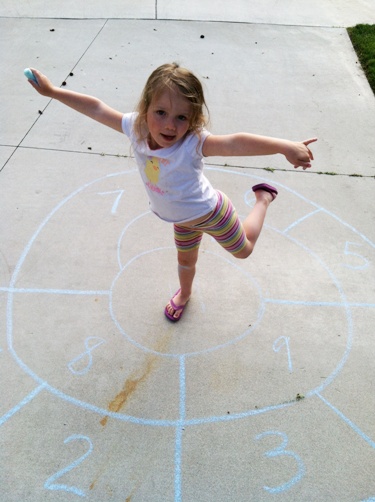 Gramma Ruthie was a school teacher. In her later years of teaching, she put together a hopscotch booklet for her students and gifted it to them at the end of the year with a package of sidewalk chalk. She gave us a copy.
I've searched high and low for that booklet to no avail. It was a great little compilation of how to play the game and its variations. It's from that booklet that we learned to play Snail Hopscotch. See the picture above.
Believe it or not, there are many different ways to play the classic game of hopscotch. Someday I'll find that booklet or  recreate it to share with you. It's fun to play different versions of the game you knew as a child.
All of them are ideal yard games to get you out of the house and into the sunshine and fresh air. My kids have always loved to play, particularly when I play with them.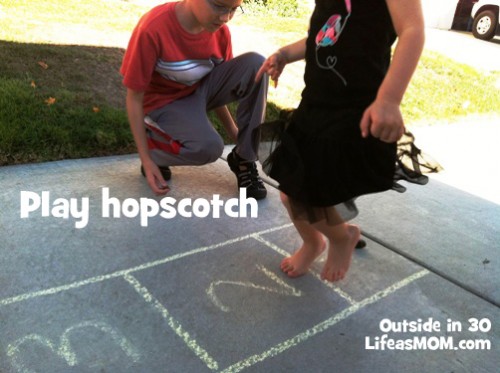 As we've already discussed, sidewalk is cheap to buy and easy to use. It makes the ideal medium for drawing a sidewalk layout of hopscotch. Once you've drawn the court, you just need a small stone or token to play the game.
What are you waiting for?
Today's Challenge: Go play hopscotch with your kids.
Helpful resources:
Outside in 30

Want to find other ways to get outside with your peeps? Eager to enjoy the great outdoors more than you do? Wondering how to expose your kids to more of nature? Click here for the Outside in 30 list of ideas.