Get Out: Play in the Water
We are a participant in the Amazon Services LLC Associates Program, an affiliate advertising program designed to provide a means for us to earn fees by linking to Amazon.com and affiliated sites. We participate in other affiliate programs as well. For more details, please see our disclosure policy.
Sunshine and water: the perfect combination. This post from Life as MOM reader, Krissa, shows how water play is a fabulous way to enjoy the outdoors and make fun memories with your kids.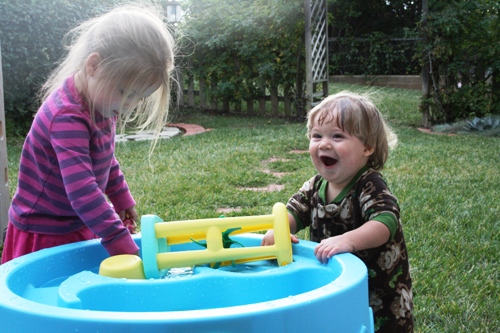 One of our favorite ways to play outdoors is with water. And if you live in cooler weather, no need to worry, playing with water doesn't have to mean getting wet!
Splashing in the puddles on a rainy day with appropriate rain gear can be just as fun as a sunny day at the pool.
Of course, in the warmer months, what's better then getting outside in the sunshine and playing in some nice cool water? I have fun memories of running through the sprinklers on a hot day as a kid. But being a little more water conscious now, as an adult, I've found some other fun ways for the kids to play with water that don't involve running the sprinklers all day.
Water Balloons: About this time every year I start to find packs of water balloons in the dollar section at Target and stock up. A water balloon fight is always fun or if you want to keep things a little less crazy, you can play toss with the water balloon and try not to break it.
Painting with Water: This is my favorite because it's so quick and simple (and you're not as likely to get wet)! Fill some bowls up with water and let the kids paint: the driveway, the side of the house, the fence. Another bonus: no clean-up!
Water Table: A couple years ago my kids got a water table for Christmas and on a sunny day in January we put it to use. My kids love playing in it still, two years later. Sometimes they're giving dolls baths, sometimes they're dumping the water on each others heads, and they're always having fun. (You can even build your own sand and water table.)
Splash Parks: Where we live, there are lots of fun splash parks. The kids will literally play for hours running back and forth from the water to the play equipment, while I can (for the most part) enjoy the sunshine and chat with a friend. *Tip: bring along some plastic cups or pails. The kids love filling them up and dumping them. (Do a google search for spray parks, splash pads, or spray grounds to find one in your neighborhood).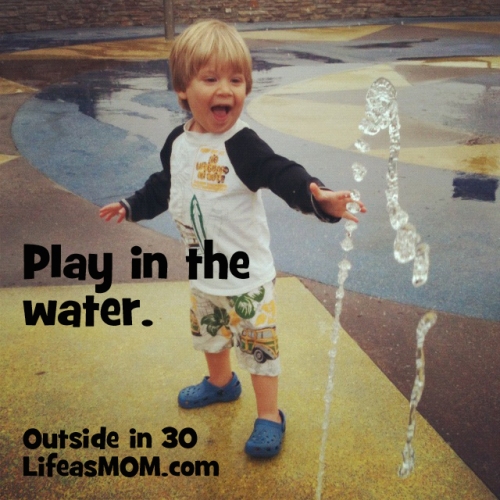 Today's Challenge: Get outside and get (a little) wet with your kids.
Helpful Resources:
What's your favorite way to play with water?
Outside in 30

Want to find other ways to get outside with your peeps? Eager to enjoy the great outdoors more than you do? Wondering how to expose your kids to more of nature? Click here for the Outside in 30 list of ideas.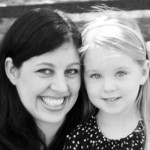 — Krissa Jeldy is a busy mom of two who, since starting a family, has become passionate about learning all she can about living a simpler, more natural lifestyle. She enjoys discovering new home remedies to try, greener products to make and use, and real food recipes to nourish her family. She juggles her time between her job as an educational specialist, homeschooling her first grader, and chasing after her toddler. In her "free" time she blogs at More Than Mundane.