Get Out: Splash in the Puddles & Play in the Rain
We are a participant in the Amazon Services LLC Associates Program, an affiliate advertising program designed to provide a means for us to earn fees by linking to Amazon.com and affiliated sites. We participate in other affiliate programs as well. For more details, please see our disclosure policy.
Rainy day? No problem. Let the kids play in the rain and splash in the puddles.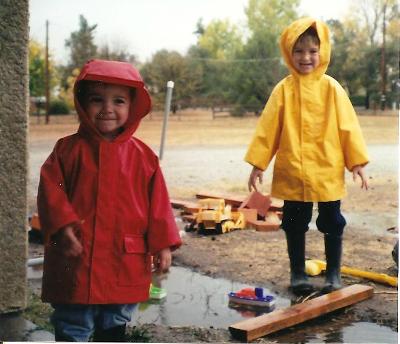 I clearly remember the day I snapped this picture. My eldest two sons were 2 and 5. These had such a blast playing in the rain and subsequent mud. They were a mess when all was said and done.
Hubs said, "Good. That's what they should be doing."
It was a good reminder for me that playing outside in the rain and mud, though messy, is lots of fun.
When our backyard pool fell apart, it left behind a big foot-deep hole that would fill with water after a rain. My sisters and I played in that mud and floated boats across the water all the time. It was so much fun!
Playing in the rain and splashing in the puddles is good for kids. I confess, that I forget that sometimes.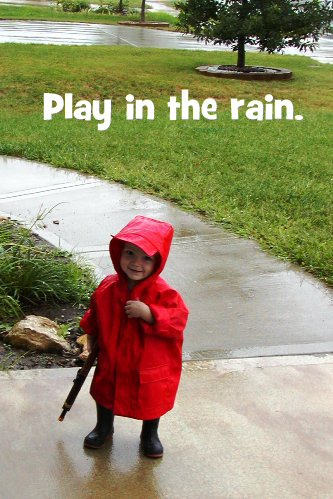 Today's challenge: Let your kids play in the rain or puddles.
Provided that it's not thunder and lightening and there's no flash flood warning, it'll be okay. Use caution and supervision, but don't be afraid to let your kids get wet.
Got a favorite puddles and splashes memory of your kids?
Outside in 30

Want to find other ways to get outside with your peeps? Eager to enjoy the great outdoors more than you do? Wondering how to expose your kids to more of nature? Click here for the Outside in 30 list of ideas.