Get Out: Take a Walk
We are a participant in the Amazon Services LLC Associates Program, an affiliate advertising program designed to provide a means for us to earn fees by linking to Amazon.com and affiliated sites. We participate in other affiliate programs as well. For more details, please see our disclosure policy.
Taking a neighborhood walk is an easy way to enjoy fresh air and the great outdoors. It also affords you time to converse with your peeps and maybe meet some neighbors.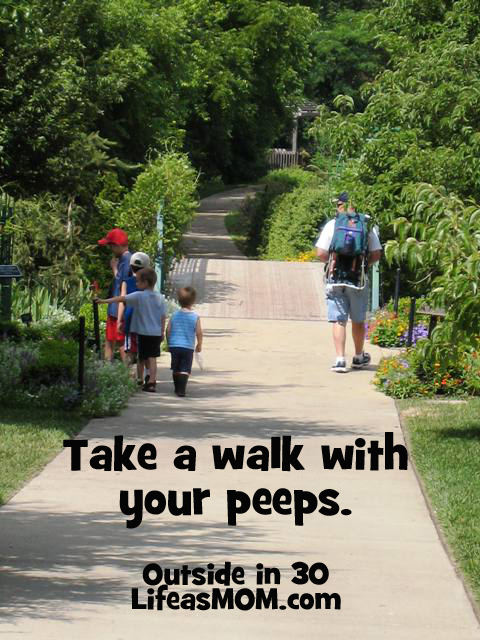 One of the easiest ways to get outdoors is to simply step outside your front door. No matter the weather, a walk around the block can be not only invigorating, but also a great way to meet your neighbors.
Since we spend so much time inside our homes, we often don't even know the people who live next door or across the street. It may take awhile, but if you continually make yourselves present out on the sidewalk and around and about the neighborhood, chances are you will meet the folks who live nearby.
When I was growing up, we would take neighborhood walks after a big family meal. It was a great way to walk off the excesses of Nanna's Apple Pie. I have extremely fond memories of those days.
Today, my girls and younger boys are extremely thrilled to go exploring. We live in suburbia which means the closest store is 3/4 of a mile away. Houses and neighborhood parks abound.
Today's challenge: take a walk around the block.
You might have to bundle up a bit if things haven't warmed up in your neck of the wood, but it'll do you good. Make sure you take the kids. Go down a new street, explore a new section of the neighborhood, say hi to whomever you meet.
Helpful resources:
Do you take regular walks?
Tell us how you make a neighborhood walk a regular part of your week. If you've got a fun or encouraging story, we'd love to hear that, too.
Outside in 30

Want to find other ways to get outside with your peeps? Eager to enjoy the great outdoors more than you do? Wondering how to expose your kids to more of nature? Click here for the Outside in 30 list of ideas.