Get Out: Visit the Botanical Gardens
We are a participant in the Amazon Services LLC Associates Program, an affiliate advertising program designed to provide a means for us to earn fees by linking to Amazon.com and affiliated sites. We participate in other affiliate programs as well. For more details, please see our disclosure policy.
Visiting the botanical garden in your city is a great way to learn about plants, explore the outdoors, and make a memory with your kids.
My kids and I have great memories of the Botanical Gardens in Overland Park, KS. It was acres and acres of rolling hills, spacious fields, ponds, rivers, streams, and loads of lush plants. We rambled through the property on a number of occasions, checking out the plants, trees, and wildlife. We probably brought home a chigger or two.
We spotted snakes, birds, toads, and dragonflies. Such fun!
We haven't been to the gardens here in San Diego. I'm going to have to find a free day or a coupon. It's $6 per child and $12 for adults. Yikes!
Barring excessive entrance fees, I suggest you check out the botanical gardens in your area. In Overland Park, admission was free! Was. But, it looks like they still have a free day. Whew. If you live in KC, check it out.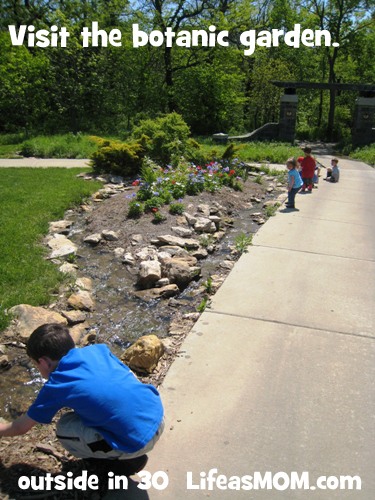 Today's Challenge: Find the botanic garden or a free equivalent to visit.
A space like what I'm taking about may be referred to as a botanic garden, botanical garden, or public garden. It appears that the names are interchangeable. Admission might be free or not. If not, it probably can't be called a public garden.
Typically they are filled with local flora with the specimens marked so that you and your kids can learn how to identify the different trees and plants. Check with your local garden to see what programs they have for kids. My meeting with the Google revealed that there are plenty of them about with lots of activities and scavenger hunts designed for kids.
Helpful resources:
Have you ever visited the Botanical Gardens?
Outside in 30

Want to find other ways to get outside with your peeps? Eager to enjoy the great outdoors more than you do? Wondering how to expose your kids to more of nature? Click here for the Outside in 30 list of ideas.