Get Out: You Belong at the Zoo
We are a participant in the Amazon Services LLC Associates Program, an affiliate advertising program designed to provide a means for us to earn fees by linking to Amazon.com and affiliated sites. We participate in other affiliate programs as well. For more details, please see our disclosure policy.
Head to your local zoo for a bit of exercise, a little intellectual stimulation, and a lot of fresh air and sunshine.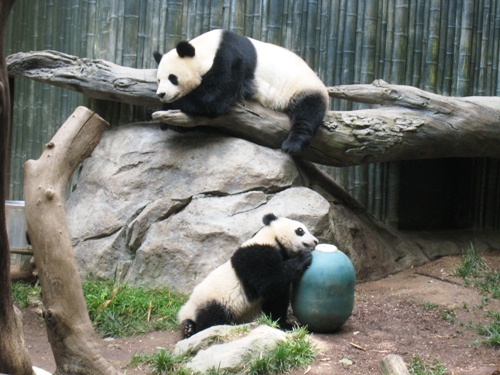 For years, the zoo was my go-to place for easy adventures with the kids. I had many little ones at one time, six kids under 12. Heading to the zoo was a great way to get some exercise, learn something new about animals and the world, and enjoy the great outdoors.
To save money we bought a year's pass which often gave us reciprocity rights at other zoos throughout the country. We've had a chance to tour zoos in Santa Barbara, Atascadero, Escondido, Fresno, San Diego, Sioux Falls, Minneapolis, and Kansas City.
Smaller zoos tend to be more doable for younger kids. Typically the entrance fee is smaller and there's less to see, meaning you can see it all in a few hours before everyone gets too tired.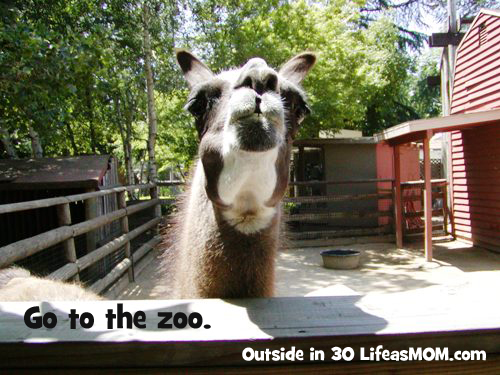 Today's Challenge: Head out to the local zoo for a day of outdoor adventure.
Consider packing a lunch and a change of socks if you're going to be doing a full day at the zoo. My husband swears by the fresh socks in order to endure all kinds of walking, hiking, waiting, and carrying of kids.
Don't forget the stroller, even if your child thinks he's too old for it. Kids up to five can benefit from a little respite when there's lots of walking involved and it lets you cover more ground.
We treat a trip to the zoo much like going to an amusement park. Sometimes the prices are even comparable. Heavens! We pack snacks and water so we don't pay the high prices they charge at the park.
Helpful Resources:
Tell us about your favorite zoo experience.
Outside in 30

Want to find other ways to get outside with your peeps? Eager to enjoy the great outdoors more than you do? Wondering how to expose your kids to more of nature? Click here for the Outside in 30 list of ideas.