Get some help and you'll save time in the kitchen.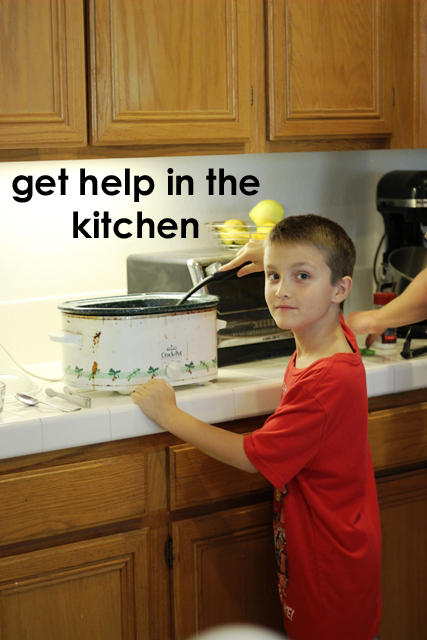 If you tend to be the sole cook in your household, as in the only one, then you might be spending more time in the kitchen than you need to. I'm not talking about cooking by yourself as a way to unwind. I'm referring to those nights when cooking seems like a chore. And it drags on. And someone is sitting around reading a book or playing a video game when they could be helping you out.
Avoid the bitterness that might come from being the chief cook and bottle washer. Get some help!
Including your family in the dinner prep is good for everyone.
You get a chance to talk.
Family members learn or improve kitchen skills.
Many hands make light work.
You save time in the kitchen.
Yes, it takes work. Yes, you might hear grumbling. But, you're not going to be around to cook for them forever. Start now getting help. Ma Igalls did. Check out these related posts for ideas on how to start the process:
'Fess up. Do YOU get help in the kitchen?
This post is part of the Kitchen Time Savers series. You can follow along this month as we explore lots of ways to make more efficient use of our time in the kitchen.

Don't want to miss a post in this series? Subscribe to 31 Days of Kitchen Time Savers here. Get updates via email here