This is Day 16 of 31 Kitchen Time Savers. Go here to see the tips you've missed.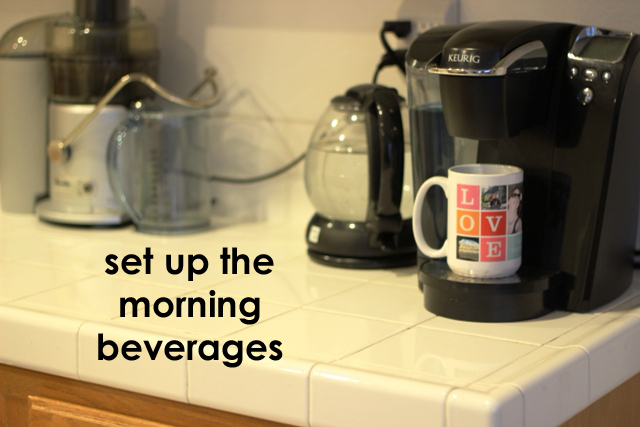 Just as making dinner in the morning will help your evening, getting your morning beverages ready at night will help your morning tomorrow. Funny how it works that way. Doing things in advance helps you out. It's a mystery.
So, what morning beverages am I talking about?
get the coffee maker ready (for me I refill my Keurig individual filter)
fill all water dispensers: hot water kettle, coffee maker, and water bottles
get juicing ingredients ready to go through the juicer
fill sippy cups and bottles
thaw frozen concentrate
You know you're going to need to hydrate first thing in the morning or get a good dose of caffeine. If you set it up at night before you go to bed, the morning will go more smoothly. Trust me. It will.
This post is part of the Kitchen Time Savers series. You can follow along this month as we explore lots of ways to make more efficient use of our time in the kitchen.

Don't want to miss a post in this series? Subscribe to 31 Days of Kitchen Time Savers here. Get updates via email here.