Get Wrapping with Free Printable Gift Tags
As an Amazon Associate I earn from qualifying purchases. For more details, please see our disclosure policy.
I don't know about you, but I've got a little stash of Christmas presents growing in my closet. And if I want to sleep at all on Christmas Eve, then I need to get wrapping.
I am notorious for leaving it to the last minute, when really, there is no excuse. If you shop ahead, you should wrap ahead!
So, this past weekend, I made sure that I had enough of what I needed to get started.
Now what about tags? Well, as cute as the tags at the store are, I decided I wanted to try something different this year. I messed around on my computer and came up with these fillable gift tags.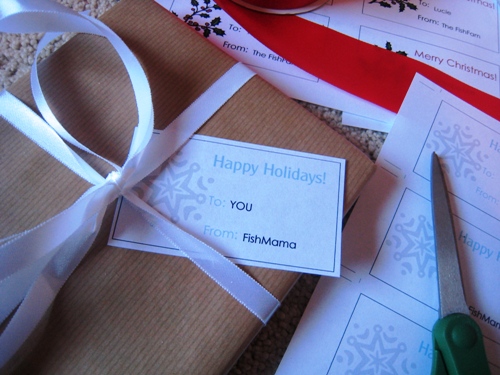 There are two designs, a Holiday Snowflake tag and a Christmas Holly tags.
Each design has fillable fields. Just click next to "To" and fill in the name of the recipient on each tag. Click next to the word "From" and type in your name once. The document will autofill your name throughout all the tags. You might need to click a second "from" box for them to appear, but they will.
How's that for handy dandy?!
Each page "should" fit an Avery business card template, so you can print them on business cards and have sturdy, customized gift cards that snap apart in a matter of seconds.
But, if you want something quick without a trip to the store (like me), you can print them on regular paper or cardstock. You'll just need scissors or a straight-edge cutter to cut the cards apart.
Now, that's a wrap!
What do YOU do to make gift wrapping easier?