Get Your Cow On
We are a participant in the Amazon Services LLC Associates Program, an affiliate advertising program designed to provide a means for us to earn fees by linking to Amazon.com and affiliated sites. We participate in other affiliate programs as well. For more details, please see our disclosure policy.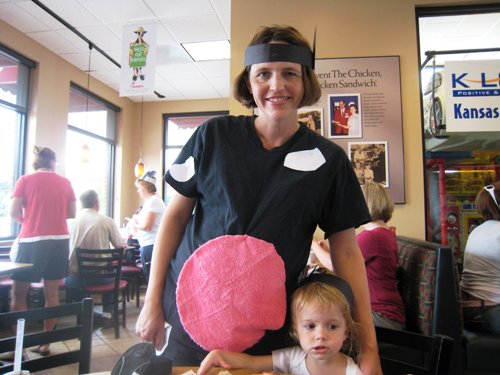 Remember this? Yes, two summers ago I was very pregnant and dressed like a cow. That's FishChick next to me, then the same age that FishBaby is now. Amazing how things change!
But some things stay the same…. Like a free meal at Chick-Fil-A this week when you dress like a cow. That's right, it's Cow Appreciation Day. This Friday, July 9, 2010 get a free Chick-Fil-A meal if you come dressed head to toe like a cow.
We love doing this each summer. And, no, I don't mind making a spectacle of myself. We've made our own costumes using safety pins, fabric, construction paper and white or black tshirts and pants. This year I've got some ideas to be different. But, we'll have to wait and see if those reach fruition.
Check these costume tips from Chick-Fil-A for making your own costumes in time for Cow Appreciation Day.
It's Time to Get Your Cow On.