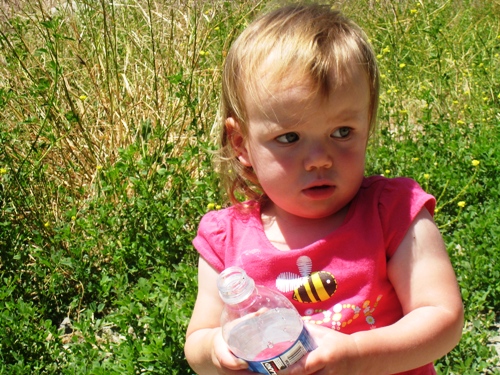 It used to be that I had a hoard of bottled water in my car and in the garage. It was easy to cart water that way. Quick, too. It was right there with us all the time.
However, disposable plastic bottles aren't good for the environment, and in some cases can emit harmful chemicals into the water we're about to drink. Not cool.
Plus, they are more expensive! Here in California, they charge an extra tax on bottled items. Supposedly you can recoup it, but there are hoops to jump. Even elsewhere, buying bottles that you throw away over and over is easily more expensive than using refillable bottles.
Over the years, we've been switching to reusable water bottles. There's less waste when using a reusable water bottle.
But, sometimes it's hard to make it work for you. Like this?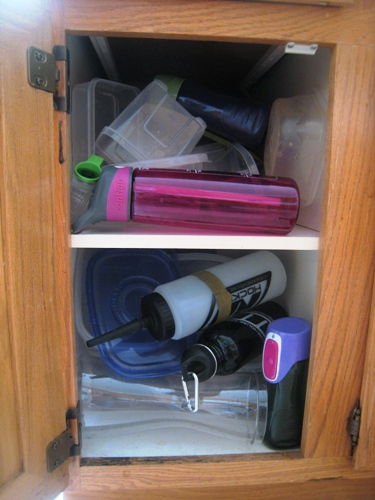 This is the plastic bottle avalanche. This week I decided to do something about it.
This was better: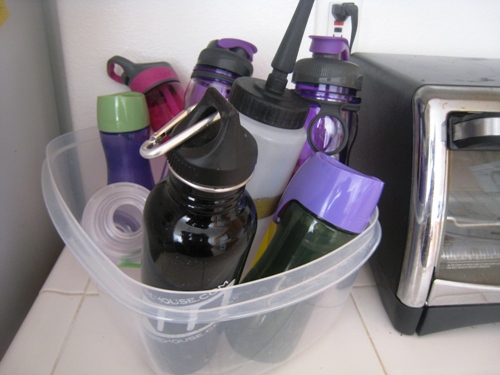 Corralling all the water bottles in a tub next to the fridge makes for easy refilling.
This, however, was best: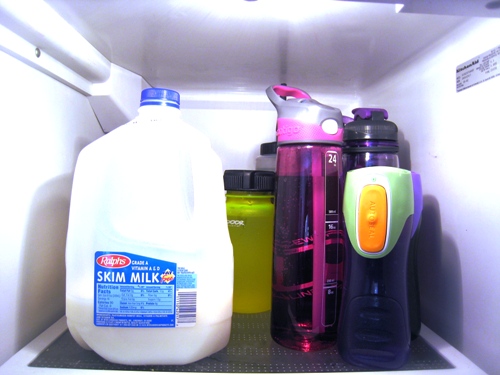 I filled all the bottles and lined them up in the fridge. They're all ready to go on an outing or to the pool!
You would not believe how much more water my kids drank this week thanks to this handy trick. And they absolutely love these new bottles we were sent from Contigo.
I knew my girls would fight over who got the purple one, so I switched the tops and bottoms. Everyone gets purple now. Hehe.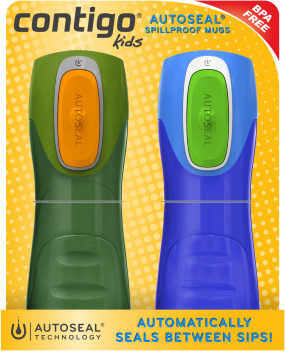 These are great cups! The girls keep filling them and drinking them down. I never knew a new cup would make a kid drink more!
Here are some of the details:
100% BPA FREE. Made with polypropylene (PP) #5.
Patented AUTOSEAL® lid is 100% leak-proof and 100% spill-proof. Lid is also one piece, meaning no loose parts.
Drinking made easy! Press to sip. Release to seal. The AUTOSEAL® Kids Trekker Cup automatically seals between sips to ensure no spills.
Easy-grip shape makes this kidscup easy to hold for smaller hands.
Top-rack dishwasher-safe.
I didn't know I would like these as much as I do. But, the fact that my girls are drinking more water is proof positive. And since some of our bottles have been spilling all over the pool bag, I'm even more jazzed about the no-spill quality of these cups.
You can learn more about Contigo on the Contigo Facebook Page and on Twitter @GoContigo.
This weekend, I've got 25 AUTOSEAL® Kids Trekker Cup from Contigo to giveaway to Life as MOM readers.
To Enter:
Simply complete the information on this form. Please know that the information is only being gathered for the purposes of mailing you your prize in the event that you are chosen as the winner. This information will not be sold, traded, or given away.
This promotion is open until Sunday, July 1st, at 8 pm PST and is limited to US residents, 18 years or older. Friends and family of Jessica Fisher and Life as MOM are ineligible for entry. The winner will be chosen randomly. The prize for this promotion is provided by and shipped by Contigo and/or its representatives. This post will be updated with the beginning of the winner's email address. Jessica Fisher and Life as MOM will not be held responsible for unclaimed or undelivered prizes.
THIS GIVEAWAY IS NOW CLOSED. Congrats to the winners: krisostrander2001@, tndhuff@, nyjenniferc@, mekussow@, petersfransen@, janellen151@, rbebhb@, lisa@sim, mcroft@, fakesarahbradfield@, hannah77@, the3diggs@, nkvamme808@, khess02@, marvelousmama@, jbnemecek@, mking@, piskulas@, sandybram@, sarammorrow@, camiknudson@, busyjo@, natascharb@, sdgmitchell829@, hannahsmommy909@
Disclosure: I received complimentary product from Contigo to review. All opinions are my own.