Getting Fit FOR Your Kids
We are a participant in the Amazon Services LLC Associates Program, an affiliate advertising program designed to provide a means for us to earn fees by linking to Amazon.com and affiliated sites. We participate in other affiliate programs as well. For more details, please see our disclosure policy.
Do you wonder if your kids watch your healthy — or not so healthy habits? Life as MOM contributor Deanna shares her wake-up call that getting fit doesn't involve just herself.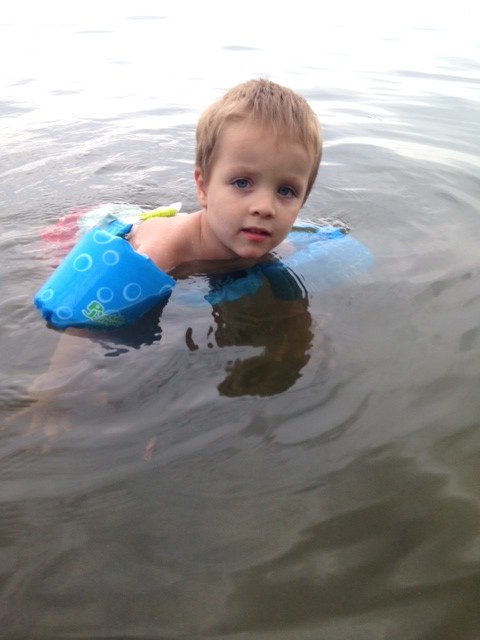 I am just now reaching the point post baby where I am really feeling the need to get back into a regular exercise routine. I have never been the super fit person who runs track meets or plays sports. (I was always the band geek.) I have always just been athletic enough to own a pair of nice tennis shoes and not have to dust them off — too often.
I'm the person who goes to Zumba class and provides "that person" status in the class to help everyone else feel better about their moves. I'm the person who runs a 5K just to say she's done it. I'm the person who says "I'm going out for a run!" and then walks and walks while listening to music or an audio book without ever actually running longer than 30 seconds at a time..
Hey! double strollers are heavy!
Ever since having a child with special needs (Down syndrome) who could be potentially prone to obesity in her future, I have really been making an effort to plan family activities that include working out in a fun way — swimming, hiking, even more walking, crazy dancing to whatever music we are listening to.
Wait, that doesn't count?
I have taken a bit of a break for my own working out while adjusting to the 3 kids thing and have really balked at getting back into it, but now that summer is in full swing and the entire state is out doing super active things, I decided it is time to hit the trail running again — at least for 30 seconds at a time.
But still, with a 4 1/2-year old with Down syndrome, a 2-year old, and an 8-month old, without a gym membership that includes child care, my work out options are limited.
The other day I decided to bite the bullet, and I slipped Jillian Michael's 30 day shred into the DVD player while all of the kids were awake. About 2 minutes into it, I was dying. Gasping for breath, feeling muscles I hadn't used in forever, I was wondering what would happen if I just called it a day? Yay I did 2 minutes and DONE- type of thing. Maybe I could even write a funny blog post about it?
But then I looked over to my right. There my 2 year old was on his stomach right next to me, mimicking my half push up move. He stared up at the TV, over at me, and then adjusted his position accordingly.
Wait! someone was watching? Someone would notice if I quit?
I started the jumping jacks and saw 2 children jumping beside me. The 8-month old just laughed at us from his walker. We got to the strength part, and they all wanted to hold my itty bitty weights so badly — so we all took turns.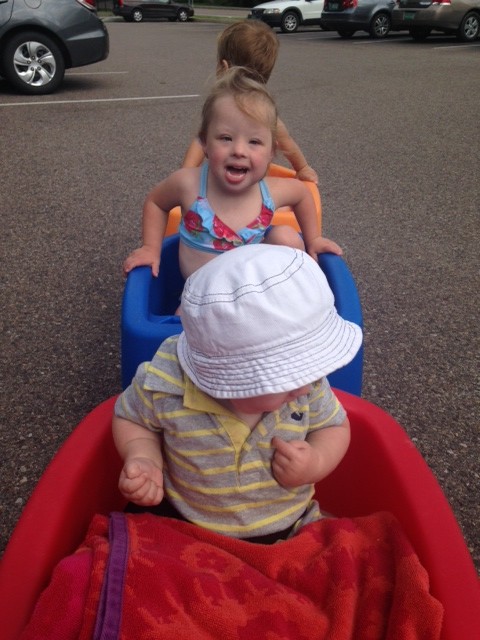 As I went through the workout and saw them mimic me best as they could, I realized that this wasn't just about me and my workout jokes anymore. I am their example. I am what they see. We finished the workout together and then guzzled water together.
I looked around at my little crew and realized for the first time that this wasn't about Mommy's workouts vs family activeness. The two were one and the same.
If I want to have an active family to help my daughter (and sons) create healthy habits, it starts with me.
This isn't about losing weight or setting records. This is just about being the strongest- healthiest versions of ourselves that we can be.
We packed up the DVD and continued on our day, but I have thought this through many times since then.
"Your walk talks and your talk talks but your walk talks louder than your talk talks" was a familiar saying to me growing up, but I never thought about it like this before. And I was humbled by the thought.
"Your working out talks and your lectures on working out talks but your working out talks louder than your lectures talk." okay…I guess that doesn't really work so well… but you get the idea.
Let's just say my regular exercise is definitely back on track. My 2 year old keeps asking when we can "jump" again. My 4 1/2 year old has been spotted around the house playing with the weights.
It's on. It is so on.
Deanna is passionate about special needs advocacy and new motherhood- two things that go hand in hand for her right now. Three kids four and under, the oldest of which has Down syndrome- keeps her quite busy. But there's always enough time left at the end of the day to write all about the insanity at her blogEverything and Nothing from Essex. And to laugh- always, always there is time to laugh.
Technically labeled a "special" mother, Deanna really finds nothing special about herself. Truly, special needs parenting is just about taking it one day at a time- enjoying the highs, sloughing through the lows, and stumbling through the mundane while drinking too much coffee. Read all of Deanna's posts here.