Take better are of YOU this summer by getting fit and working daily exercise into your life.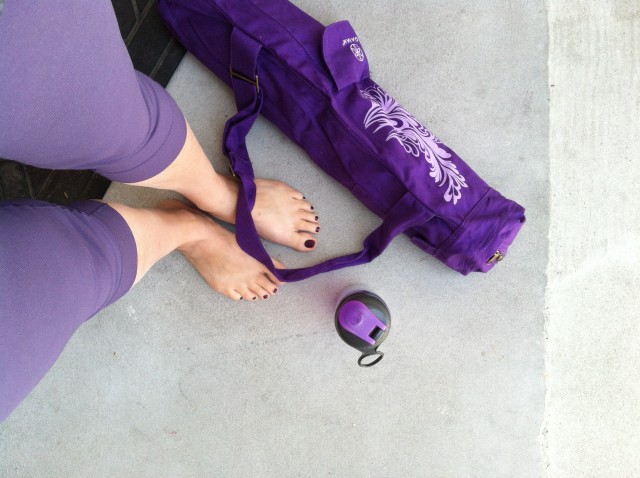 I'm back in the saddle. After last summer's workout fest and getting discouraged that my body had not changed one itty bitty bit, I got really lax over the winter months, more and more so over the last couple months. We were busy and I could make all kinds of excuses.
I know that I need to work to live a healthier life.
I know with my head that regular exercise is good for my body, even if the inches don't fall off. As far as cardiovascular health, it's better to move than not, right?
Last week I turned 42. It wasn't nearly as painful as turning 39. FishPapa clued me in about weight lifting. In some ways I'd been "doing it wrong". My 16yo was kinda stunned that I didn't know the things I learned last week: namely, that you're supposed to challenge yourself and that the last set should be harder than the first.
Anyway, all that to say, I'm back at the gym. I decided that I would challenge myself to do something exercisey every day. In the last week, I've done the fitness center (weight machines and treadmill) three times, taken three yoga classes, and walked laps at our homeschool running club. My breathing feels more exhilarated, and as James Brown would say, "I feel good."
Bonus: My hip isn't hurting me these days. It could be that I'm in so much muscle pain elsewhere that I don't notice it. Or maybe I needed to be stretching the right things. I dunno. Time will tell, I suppose.
I whined earlier today that last summer was a waste if I wasn't doing it right. My son told me it wasn't. Moving is better than sitting still, right?
I've been pushing myself a little bit harder on the weights and even tried running on the treadmill each time. Eventually I might get past a half-mile, but it's a start. I'm hoping that I might lose these five or ten Perimenopausal Pounds this year. It won't be as easy as this time I lost a lot of weight, but I hope I'll develop some better habits this year.
If you're wondering why or how to make this whole getting fit thing a reality, check out these past posts. 
Get Yourself Fit:
I don't need to exercise. I'm not very athletic. I'm not coordinated. I like reading better. I'm not an athlete. I don't really have a weight problem. I don't like to sweat. I don't have time for that.
Those are all the different things I've said to myself over the last twenty-five years. Even earlier, I guess. I was always the last kid picked for a softball team. I faked a stomach ache whenever dodge ball was on the teacher's schedule.
In high school I lettered in baseball. No lie….
I am not an athlete. I am a book worm, a homebody, an indoorsy kind of person. I understand when my 11-year old says he'd rather be creative than do something athletic.
But, I also know that exercise is not about weight loss. It's about health. It's about keeping your body limber and in good working order. While I can't guarantee that disease and injury won't take me down, at least I can be, as my husband says, a moving target.
Get Your Family Fit:
Family fitness benefits go well beyond a trimmer body. Its strong glue has helped hold our family together. And it's shepherded us through some challenging times. As I watch my kids grow up to be healthy in body and mind and soul, I know I can thank our family activity for this.
But while in the long run it can make family life easier and more rewarding, it isn't always easy to get going. Go here for a few key tactics to employ to make it happen
I've also come to realize that my metabolism is slowing down as I age. And extra bulk around my waist can no longer be blamed on a baby. That is mine. I understand that exercise is good for all of us.
Unless your family is active in team sports, it can be a little tricky to find ways to get everyone fit. Your kids may or may not be getting enough exercise at school. And for homeschoolers, well, we're our own PE teachers, aren't we? We all need to get out and get physical.
Dinner prep is breathing down your neck . . . helping with homework is sucking up the last of your patience . . . and you're feeling the miles you've traveled since the day began oh-so-long-ago this morning. You're feeling tired down to your bones!
The last thing you want to do is round the kids up and jump on bikes. Sitting for a few minutes is much more enticing.
But imagine this . . . imagine if you did hop on those bikes . . .Imagine if you broke away from the downtrodden feeling of the late afternoon and took a quick tour of the neighborhood. Everything might change.