Getting Your Head Back in the Game of Motherhood When You're Crazy Busy
We are a participant in the Amazon Services LLC Associates Program, an affiliate advertising program designed to provide a means for us to earn fees by linking to Amazon.com and affiliated sites. We participate in other affiliate programs as well. For more details, please see our disclosure policy.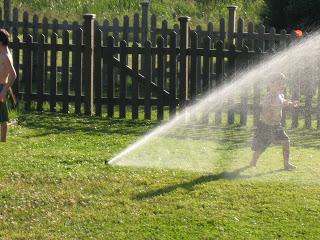 Recently as I sat out on the back deck watching my boys run through the sprinklers, I realized that it had been quite awhile since I had just sat and watched them play. I couldn't even remember the last time I did that.
It was a sobering thought that I've been "too busy" multi-tasking to just stop and smell the roses, so to speak. It was really pleasant to sit there in the cool evening and to watch them laugh and play. It relaxed me in a way that sitting at the computer or reading a book does not. They were just having a ton of fun. Oh, that I could be that way, too.
Since then, I've tried to be more deliberate in giving them my undivided attention. It's the small things, like:
Stopping what I'm doing to listen to FishBoy7 tell me about his favorite GameCube game.
Dancing with the FishChick when I turn on music, and she insists on being picked up. The music is on to motivate me to work. But, she wants to dance and raises her hands as she's seen us do in church.
Following them up to their room at bedtime, instead of just sending them there. We're making precious memories if I take the time to talk with each one before he falls asleep.
Not freaking out if my Once-a-Month Cooking agenda doesn't run like clockwork.
In some ways, I look at this as "getting my head in the game." Yes, cooking, cleaning and writing are important aspects of my life. But, being their mom and making memories with them comes first. Twenty years from now most of the stuff I do won't matter.
But, my relationships with my children will.