Getting Priorities in Line
We are a participant in the Amazon Services LLC Associates Program, an affiliate advertising program designed to provide a means for us to earn fees by linking to Amazon.com and affiliated sites. We participate in other affiliate programs as well. For more details, please see our disclosure policy.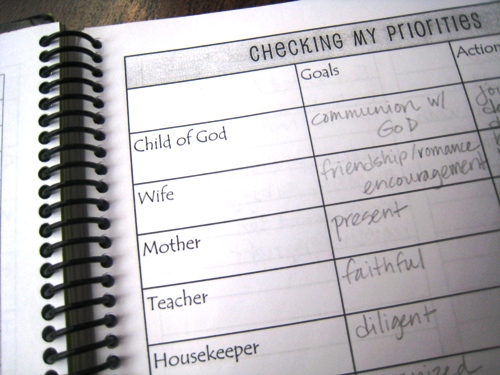 Last week, I got cozy with a cup of my very favorite coffee, Uzuri African Blend. Sipping away, I spent some time reading and thinking about Psalm 5 and journaling about it. The house was quiet — it was 5 am. And I could think.
I turned to the Goals section of my household notebook and found a blank priorities sheet. I try to fill one out at the beginning of each month. In this way I am reminded of where I want to go, who I want to be, want I want to do.
Remembering What's Important
Lately, instead of filling the Goals with something long and lofty, I'm jotting down the first things that come to mind. Then I get into specifics about actions to take.
For instance, I want a deeper communion with God. That was the first thing that came to my mind: communion. While I may not have a preconceived notion of what that looks like, that is what sprung from my heart.
Actions to follow? Reading through the Psalms and Matthew this month, trying to journal every morning, writing my prayers out, reading through a mother's devotional. These actions may or may not guarantee that I'll have deeper communion with God, but I have to start someplace.
And Remembering Again
We've talked before about putting big rocks first and prioritizing. For me, it seems like this is an ongoing process. A important event or project can spring up that sends me out of orbit.
Having this priority sheet to go back to is important for me. It helps center me and give me focus.
You can download a free printable Priorities sheet like mine, or if you buy my 125-page ebook, Organizing Life as MOM, you can create your own with the fillable field feature. (You'll also get 90+ printable planning forms, including several yearly calendars.)
How do YOU stay focused?
Don't forget to check out Works for Me Wednesday for more mom inspiration.