This post does include Amazon affiliate links. If you make a purchase through those links, I am paid a small amount in way of advertising fees.
Congrats to the winner: dawn_S_R@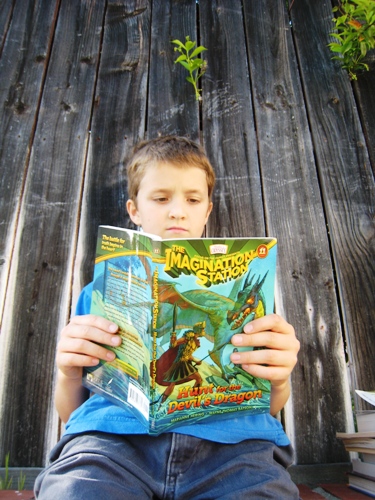 As a bookworm, it has been so thrilling for me to watch my kids learn to read and become engrossed in books. FishBoy9 caught on a couple years ago, and he's been a reading machine ever since. This past year he tackled The Hobbit all on his own!
One of his first and favorite series to read through has been The Imagination Station series from Adventures in Odyssey. These are historical fiction novels that place kids within a certain time of history. These books have been a great complement to our homeschool history study.
I'm always pretty psyched when a new book comes out because I know he'll have something good to read instead of drifting toward the computer or gaming system. The more alternative ideas and activities I can give my kids, the better.
You can check out the Adventures in Odyssey by downloading a FREE e-book of Imagination Station #1: Voyage with the Vikings!
This summer, Adventures in Odyssey encourages kids to write their OWN stories, as they join in ACTS: A Call to Serve! AIO is helping children use their imaginations to serve their family, community, and world this summer—maybe by sending a care package to a missionary or baking cookies for the local fire department. Check out the website for details and a chance to win fabulous prizes, including a mission trip with a parent to Costa Rica!
Grab their ACTS service kit here.
Win a set of Books 1 through 3!
One Life as Mom reader will win the first three books in the Imagination Station series.
To Enter:
Simply complete the information on this form. Please know that the information is only being gathered for the purposes of mailing you your prize in the event that you are chosen as the winner. This information will not be sold, traded, or given away.
This promotion is open until Sunday, June 23, 2013, at 8 pm PST and is limited to US residents, 18 years or older. Friends and family of Jessica Fisher and Life as MOM are ineligible for entry. Please enter only once. The winner(s) will be chosen randomly. The prize for this promotion is provided by and shipped by the Tyndale House and/or its representatives. This post will be updated with the beginning of the winners' email addresses.
Disclosure: I have been received review copies of these books in the past. All opinions are my own.