Get your kitchen ready for vacation by dealing with the food you might be leaving behind. You'll waste less and save money, too.
With "summer recess" in full gear, it's time to think of vacations. Whether you're having a staycation or a full-blown trip to some distant locale, vacations can be pricey, especially when it comes to food. You gotta eat, no matter where you are.
If we are doing a staycation, I can save money and feed my family well at home. If we hit the road, I often pack along freezer meals so that we can cut our food costs and still have good eats.
One thing that we can forget about when we head out is the food we left behind. If you don't use up perishables before you leave on vacation, you can be wasting a ton of food, and in turn, a ton of money. It's in our best interests to get the kitchen ready for vacation, too.
I'm typing this post, actually, from my in-law's shaded patio. The breeze is blowing and the kids' voices carry on the wind. Last night I slept ten hours. Yes, ma'am. I am in vacation mode. But, there was some work I had to do yesterday and the day before to get to this place.
Our week prior to leaving had been a full one with birthdays and fun with friends. That meant that I didn't really think about leaving town until Thursday night. Our fridge on Friday morning was still packed to the gills and we had quite a bit of bread and produce on the kitchen counters. I had my work cut out for me.
Here's what you can do to get your kitchen ready for vacation and not waste good food while you're away:
1. Eat it.
Both Thursday dinner and Friday lunch were a hodge-podge of leftovers for us. It was not only a good way for me to save money, but a great way for us not to waste food. For each meal, I offered fresh fruit and salad fixings, but I also laid out an array of leftover birthday meals, noodles, and sandwich fixings.
Serve leftovers in the last few days before a vacation so that you can use up what you have and not let it go to waste. Many families plan one night a week to eat up leftovers. With six kids, we don't usually have too many leftovers, usually just enough for lunch for a couple people. Make it work at your house to use up les restes, as my French mom says.
Leftovers can help you save money.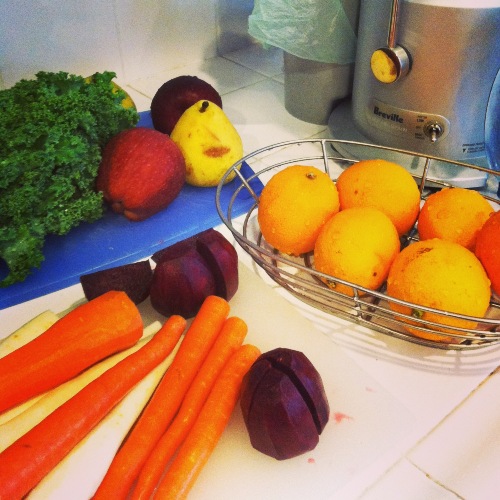 2. Juice it.
Despite my best intentions, the vegetable drawers were still quite full with items that I'd been meaning to use all week. Friday morning, I pulled it out and made a big pitcher of juice. Parsnips, carrots, beets, apples, pears, and oranges sent through the juicer made a fabulous mid-morning pick-me-up for us all. Even my husband liked it, which is saying something.
If you don't have a juicer, you can make smoothies with many of the fruits and vegetables that you might have on hand.
Homemade juices and smoothies are a great way to use up produce while it's still fresh.
3. Freeze it.
I had a lot of produce on hand. With our busy last few weeks, I just hadn't been able to catch up to the produce box. I had been meaning to make any number of things and just not gotten around to it.
On Friday morning I found myself with green beans, several zucchini, two eggplants as well as a myriad of plums. I blanched the green beans and prepped them for the freezer. I made ratatouille with the zucchini and eggplants and some other items from the pantry. And I blended up the plums with some honey to make a couple dozen popsicles.
Prep freezer meals with the food you have left in the freezer if you have the time. If not, then take a few minutes to make those items freezer-friendly. You can even package good leftovers for freezing if they won't get eaten within the three to four days after prep. There's no end to the ways you can put your freezer to good use!
Putting foods on ice while you're gone will preserve them and give you some convenience foods when you return from your trip.
4. Pack it.
Since we were heading to my in-laws for a few days, I knew we'd have access to a kitchen. Not only did I pack non-perishables from the pantry, but I also packed a cooler full of other foods: cheeses, lunch meats, fruit (canteloupe, grapes, bananas), and salad fixings. Surrounded in ice, they made the trip just fine. Not only did I save food from going bad, but I also ensured that we'd have easy snacks en route and once we got to our destination.
Packing foods from home can save you money during your trip and helps you avoid wasting money when food goes bad before you eat it up.
5. Stash it.
After all that, I still had several tomatoes, a melon, and a bunch of peaches and apricots. They were under ripe, so I couldn't really deal with them in the previous ways. I also couldn't leave them on the counter. I knew that the fruit flies would have a heyday.
Instead, I stashed those items in the refrigerator where the cold will slow down their ripening time. It's not the best thing for produce. It's better to let those items ripen on the counter which is why they were there in the first place. But, in my absence, they are better to chill out in the fridge.
Store in the refrigerator the fruits and vegetables that might ripen too quickly on the counter.
6. Ditch it.
Lastly, before you head out on vacation, make sure that you ditch any leftovers that are past their prime. Be sure to empty the trash can and wash out the dishes. None of that will improve with age.
Throw out what is bad or very close to. It's not gonna make you love your kitchen more.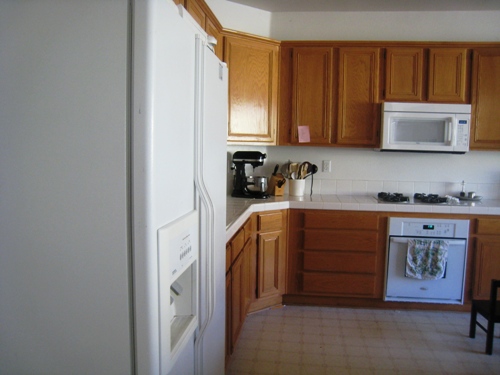 Get your kitchen ready for vacation.
If you've got time to leave yourself a clean kitchen and a meal in the freezer, your reentry will be smooth sailing and a great way to end a vacation.

This post is part of an ongoing series about how to eat well and spend less. Along with some fabulous foodies, organizers, and frugalistas, I've been bringing you suggestions on how to eat like a king without becoming a pauper to do it.
This month we're talking about summertime. From summer lunches for kids to taking freezer meals on the road to budget-friendly car snacks, we've got you covered.
Be sure to check out what the other ladies are sharing this week:
Got a favorite trick for getting your kitchen ready for your absense?
Be sure to share it in the comments.