Gift Guide for Littles
We are a participant in the Amazon Services LLC Associates Program, an affiliate advertising program designed to provide a means for us to earn fees by linking to Amazon.com and affiliated sites. We participate in other affiliate programs as well. For more details, please see our disclosure policy.
A gift guide for children ages 1 to 6.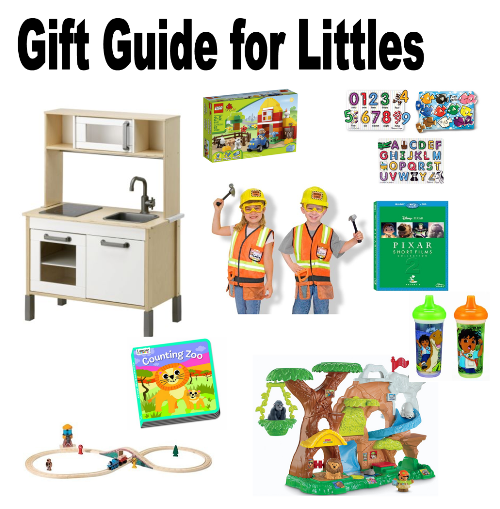 My baby is four this year. In a few more Christmases I probably won't be buying too many presents for littles. I'll be sad to see that season go. This is such a FUN time of life!
Over the years I've paid a lot of stupid tax buying things that my kids really didn't enjoy. I just didn't know any better. Today, I realize that a few good quality toys can take the place of a multitude of cheap plastic.
Last year I presented my gift guides for girls and for boys. These were mainly based on my limited experience raising girls and my somewhat more extensive track record raising a tribe of boys. Yet, every kid is different. What interests one may not interest another — even if they are the same sex and age.
This year, I'm dividing my gift guides into ages, again based on my own experience. I seem to be parenting three distinct age groups currently: littles, big kids, and teen. Heaven help me.
Today I offer my tried and true suggestions for children aged 1 to 6. Your mileage may vary.
Duplos
I didn't let my older kids play with Legos for years. I held it off as long as I could to avoid the small, chokeable pieces and the prickly points that you step on in the night. Instead, we built with Duplos. I love our Duplo collection. Some of the pieces are even hand-me-downs from my brother.
You can't go wrong with Duplos. All my kids have loved building with these toys.
Wooden train set
It all started with a FREE Thomas the train engine. Send in two Yoplait proofs of purchase and get a free engine. Hundreds of dollars from the pockets of grandparents later, we have quite the extensive Thomas the Train track complete with round house and various bridges.
We knew that it would become an heirloom toy and it has. Our eldest has staked his claim, even though he's a little too old to play with it at 15. But, you know he'll want to take it home someday when "home" isn't with his parents.
A wooden train set is a keeper, for boys and girls alike.
Wooden puzzles
I love wooden toys for their durability and vintage look. Again, we started collecting these when our oldest was a toddler. We still have some with all their pieces! Hallelujah!
Melissa and Doug make the best wooden puzzles. The cheaper knock-offs just don't cut it. We've bought some that had to have a hammer to fit the pieces in place! Stick to the good ones.
Dress-up clothes
Now, in the early years of parenting, our dress-up clothes were limited to knights, cowboys, and Davy Crockett, based on the interests of our firstborn. In recent years we've diversified our dress-up clothes to include shepherds, chefs, and princesses. My kids have always loved imaginative play. Good costumes are necessary for that.
One year I even went so far as to track down three-corner hats and sew lace onto white t-shirts so my boys could be George Washington and Johnny Tremain.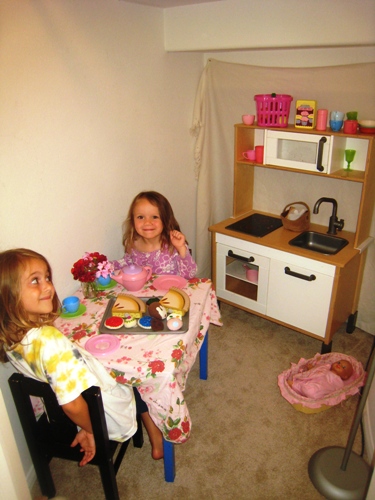 Play kitchen and food
Along with dress-up clothes, imaginative play calls for some good props. That means a play kitchen and some food. You don't need a lot of food. That's just more to clean up. But, a few pieces make it much more fun.
I love the Ikea play kitchen. It's a little pricier than others, but sturdy, and yes, made of wood.
We made our girls a play cupboard under the stairs where they have their kitchen and food.
Short videos
Short videos are a mom's best friend, long enough to let you get dinner on the table, but not too long that your child becomes a zombie. We recently received a review copy of Pixar's Short Films which are very, very cute — and entertaining for adults as well as kids.
Other favorites include Bob the Builder, Dora the Explorer, Ni-hao Kai-lan, Caillou, and Phineas and Ferb. Many of those are free with a membership to Amazon Prime.
Character sippy cups or water bottles
If your child has a favorite character or theme, pick up a fun sippy or water bottle. You would not believe the mileage I've gotten out of two Dora the Explorer water bottles that I bought two Christmases ago. The girls love these.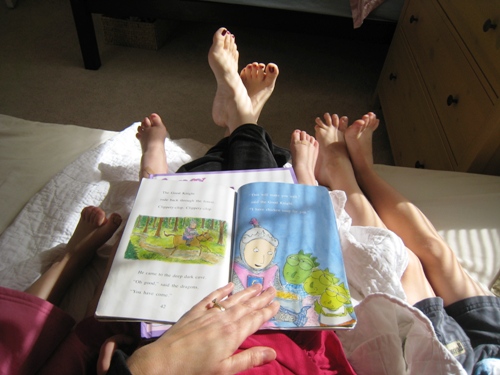 Books, books, and more books
Don't despair if your child doesn't fall in love with books right away. Just make them a part of your life, like breathing, and most kids will come around.
Choose board books for your youngest kids and work your way up to picture books and family read alouds as they grow. Read together and do extension activities to help enforce what they learn from the story. There are lots of good books to choose from.
There are also storyboxes to accompany classic tales. We were sent this Hansel and Gretel storybox from Steve Light to review. Each storybox contains all the characters in the classic story to provide kids the opportunity to retell the story or even change the outcomes.
Fisher Price Little People
I played with Little People when I was a kid, back when they were small, wooden, and chokeable. Today they are big honking things that aren't going down a windpipe — unless it's an elephant's.
Though their design has changed, the Little People have just as much appeal as they did over 30 years ago. I love the new Little People designs and collections. I'm sad that my girls will soon be too old for them.
You
It goes without saying that none of these gifts compare to time spent with a parent. If you get down and play with your little people, they probably won't notice that they don't have as much stuff as the next kid. Just play.
What gift has been a hit with your littles?
Disclosure: This post does include Amazon affiliate links. If you make a purchase through those links, I am paid a small amount in way of advertising fees. Where indicated I have received product to review. All opinions are my own. I would not mention these items unless I truly thought they were valuable assets to your home.