This giveaway is now closed. Congrats to alvarezbren@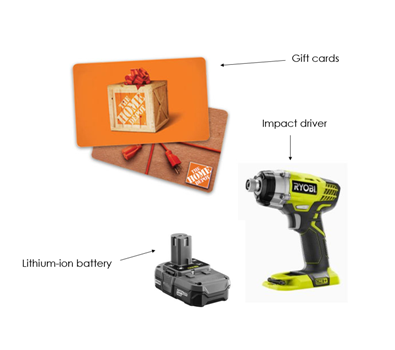 As you may know, I married a carpenter. FishPapa has worked in the construction world since he was eight. Yes, really. As a child he did construction clean-up with his mom after school to help make ends meet.
This signifies in a number of ways:
He knew early on that women could do a multitude of jobs and do them well. His mom carried sheets of drywall that were twice her size! He does not doubt anyone's capabilities based on their demographics.
He can hear an address or have a location pointed out to him once and he can find it again. This comes in particularly handy when you're at the hair salon and forget your money. He can bring it to you.
He can multitask with all kinds of crazy noise and activity going on around him, making him an ideal candidate to live with six children.
He knows how to fix almost anything!
He is not afraid to work hard.
Who knew when that little boy had to work so hard that it would bear such good fruit so many years later? He's been a hard worker ever since. No job is too hard. So it was super fun to be able to surprise him with construction-y things!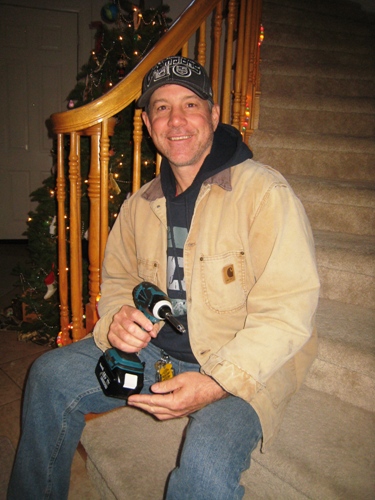 The Home Depot contacted me recently about their selection of Lithium-Ion Tools. I personally am not the handy one in the family.
Obviously.
But, I am a good listener. I knew that these tools were an asset to anyone's tool kit because the batteries are interchangeable between tools. My husband loves them and uses them frequently, so it was so nice to add to his tool box.
Some good things to know about Lithium-Ion tools:
Lithium Ion is a technology that started in power tools in the home improvement sector and now crosses over to additional categories such as outdoor power, paint and flooring. The battery's technology provides customers with a number of advantages over traditional NiCad battery-powered tools.
Lithium Ion batteries produce a consistent charge throughout the life of the battery, can be charged many more times than other batteries and are not damaged by leaving the charger on too long. They feature fade free power for up to 35% better performance.
Lithium Ion batteries are lighter in weight, allowing for smaller, more powerful outdoor and power tools.
New and improved Lithium batteries are the very best value in lithium-ion performance. This new battery provides up to 20% more runtime, holds a charge four times longer, has extreme weather performance and is 45% lighter weight than 18V ONE+ NiCad batteries at exactly the same price.
— information provided by The Home Depot
Both my dad and my husband have owned these type of tools over the years and rave about them, especially the impact driver. My dad is, in fact, a little jealous that I don't have a new impact driver for him.
According to my husband, the impact driver is the most fabulous construction tool to be produced in the last twenty years. OK, I don't think he said fabulous. He used a different, more construction-y, word, but you get the point. He's convinced myriads of co-workers and foremen to invest in this tool because it makes your job so much easier and quicker than using a drill.
(Stay with me to the end for your chance to win one.)
What to get for the DIYer in your life…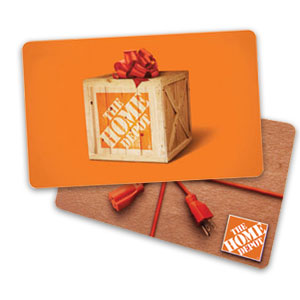 If someone on your list is a DIYer or works in the trades, then The Home Depot has got you covered for holiday gift giving. Not sure what tool to get? Don't worry about that. Handy folks in The Home Depot are like kids in a candy store! Just give them some spending money.
The Home Depot has made it incredibly easy to give gift cards this year:
A variety of gift cards: There are 8 new designs to fit the personalities of everyone on your list, from Martha to Fix-It Felix Junior.
Gift card tins: They have 4 different tins to package the card in: a Homer paint bucket, paint can, tool box or working level.
Facebook group gifts: The Home Depot has enabled Facebook users to go online and team up with their friends and family to buy an eGift Card. Contributions submitted from invitees allow the amount of the eGift Card to increase and the joy of the recipient to multiply. Senders can also include a personalized message with the eGift Card. The Group eGift Card can be delivered via email or posted on the recipient's Facebook Wall.
Facebook ecard delivery: You can have your gift delivered to your loved one's Facebook wall.
eGift Cards via mobile: You can purchase electronic gift cards via THD's mobile app.
Plastic Gift Cards: You can have a plastic card sent in a Hallmark Greeting Card.
Someecards eGift Card Giving: For the first time ever, Someecards is working in social commerce to deliver a humorous message as well as a tangible gift. Go here for more details.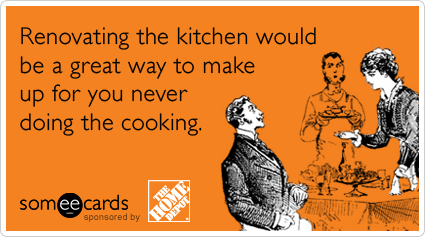 I know quite a few folks who would be absolutely thrilled with any of the above options.
Win a Lithium-ion Impact Driver from The Home Depot.
This weekend, one Life as MOM reader will win a Ryobi One+ 18-Volt 1/4 in. Impact Driver.
To Enter:
Simply complete the information on this form. Please know that the information is only being gathered for the purposes of mailing you your prize in the event that you are chosen as the winner. This information will not be sold, traded, or given away.
This promotion is open until Tuesday, December 18, 2012, at 8 pm PST and is limited to US residents, 18 years or older. Friends and family of Jessica Fisher and Life as MOM are ineligible for entry. Please enter only once. The winner will be chosen randomly. The prize for this promotion is provided by and shipped by The Home Depot and/or its representatives. This post will be updated with the beginning of the winner's email address. Jessica Fisher and Life as MOM will not be held responsible for unclaimed or undelivered prizes.
Disclosure: The Home Depot partnered with bloggers such as me to help promote their Lithium Ion power tool collection. As part of this promotion, I received compensation for my time. They did not tell me what to purchase or what to say about the products. The Home Depot believes that consumers and bloggers are free to form their own opinions and share them in their own words. The Home Depot's policies align with WOMMA Ethics Code, FTC guidelines and social media engagement recommendations.