The following post is sponsored by Hallmark:
Disclosure: I have been compensated for my time spent writing. All opinions are my own.
When I was a child and wanted to buy a gift for someone, whether it be a teacher or a friend, I had my mom take me down the road to Janet's Hallmark. It was the place in Saugus to buy gifts and cards, despite the fact that Janet was a really grumpy lady who rarely smiled.
I loved the dim lighting, the quietness of the store, and the magical array of beautiful things. I fondly remember the collection of blank books, crisp stationery, and the sealing wax and seals. I think the latter is hard to find these days. I wish I had kept my seal. You never think things will go away, but they do.
This week I took the littles to our local Hallmark to shop, and now I understand some of Janet's stern countenance! We discussed all the ins and outs of proper behavior in the store before we entered. We talked about the "no touching" rule. We talked about quiet voices, sticking together, etc.
By the end of the experience I felt like the bulging eyed emoticon you have on your phone.
Don't misunderstand me. My kids are in the top 5% in terms of well-behaved — at least in public. They weren't misbehaving. They weren't running or shouting. They weren't doing anything wrong.
But, the musical bears and the musical books and the musical cards? Oh my. Be still, my beating heart.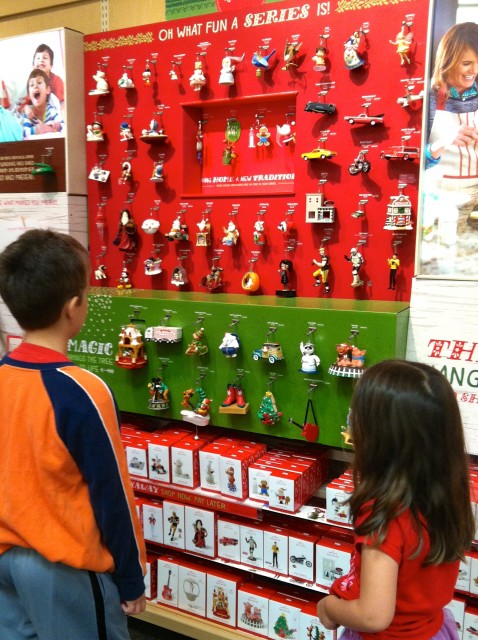 And that moment, after you've assigned the buddy system and paired off your kids, when one child (alone) runs up to you and whispers, "C just broke an ornament." As you whip your head up to say, "What part of "no touching" does she not understand and why aren't you together?" she comes rushing through the store, calling loudly, "J! I FIXED IT!"
That moment.
I'm thankful that we were not at Janet's Hallmark at that moment, but instead at Amy's where they are super friendly, super helpful, and super duper smiley. My kids did not ruffle their feathers one bit. The store is warm and inviting for children and full of cool stuff.
In this instance, my kids didn't know that my eyes were bugging out in shock. For all they knew, we were having a fun time. And we were. And the Christmas ornament wasn't really broken. Amen. Hallelujah.
It just reminded me of the difference between a big, loud, bustling megamart and the quiet serenity of a Hallmark store. One is full of things that come and go with the wind; the other evokes a keepsake quality about it. And a few nervous palpitations.
I guess it's the idea that the things at a megamart are often made to be broken, while I think of the things at Hallmark as being made to treasure.
Regardless of my nerves, we had a delightful time exploring. Our mission: The nice folks at Hallmark had sent us a gift card to spend on gifts and cards for people we care about. I was sad to find out that my regular Hallmark store had closed, so we explored a new-to-us location at the mall. I cased the joint the night before and then took the kids back.
This foreknowledge was helpful for all of us, since I had an idea of what they had on hand and where things were located. I, myself, had played the singing bear and chuckled. I just didn't know there were ALL THE THINGS THAT SING. Ha!
It was interesting to see what the kids were drawn to. There is so much to choose from in a Hallmark store: mugs, tshirts, photo albums, water bottles, bags, decor, cards, stationery, and of course, the new Christmas ornaments.
We ended up focusing on a couple things: thank you's for friends and family we stayed with last weekend and decor for FishPapa's office.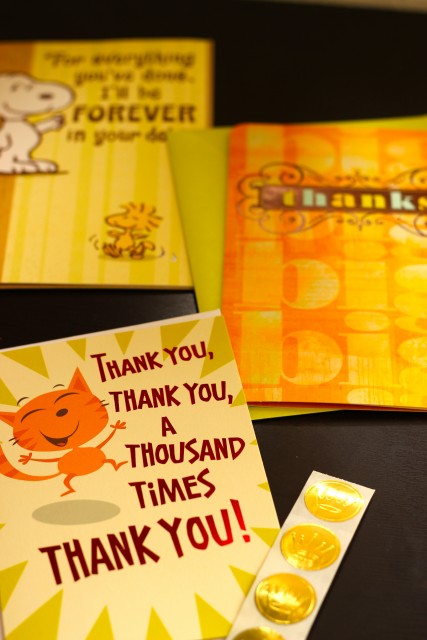 Thank you's
We stayed with the grandparents last weekend as well as at my friend Jessika's. FishBoy12 parked himself in the cards section, looking for cards to send them as thanks. He told me later that he also had a good conversation with a grandma also looking for cards. Ha! Cracks me up.
He found some great cards that fit the occasions and the people we were searching for. I'm so proud of him. He really took our mission to heart.
Gifts for Papa
I mentioned to the kids on the way to the store that we might look for something for FishPapa's office. He's been deliberating about meaningful things to add to his walls and shelves. I knew that he had been making himself a shadow box for a Kings jersey. FishChick7 knew that he had ordered a poster as well.
I wanted to add to the collection in a purposeful way, not too girly, and not too much something more to dust.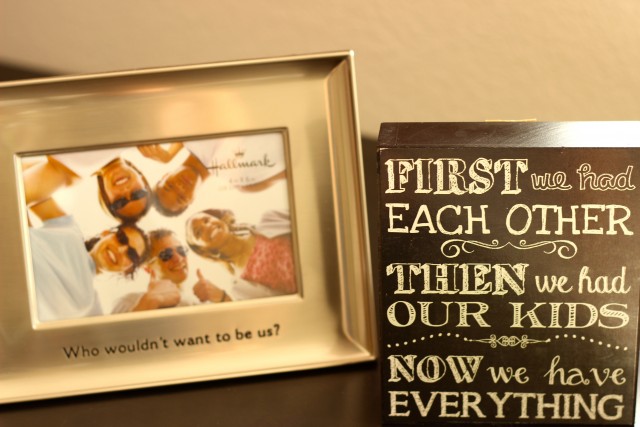 I love this plaque I found: First we had each other, then we had our kids, now we have everything. Yep, that's it. We've got all we need.
I laughed out loud when I saw the frame, emblazoned with the words: Who wouldn't want to be us? That cracked me up, not in a "we're-so-great" way, but in a "we're-so-weird" kind of way.
I found a little porcelain typewriter with a porcelain paper coming out that says, Write your own story. If that's too much for him, I'll keep it for myself.
Life is Good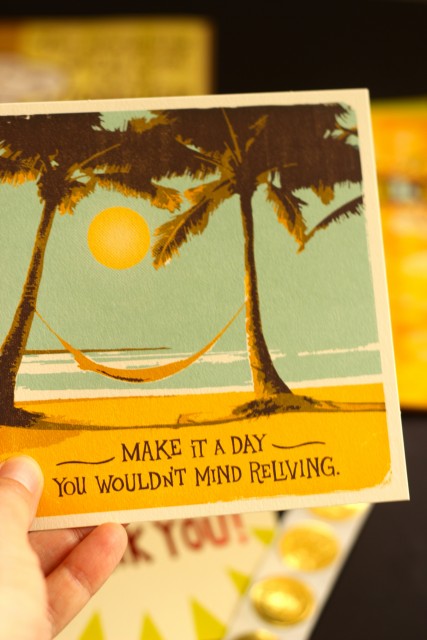 I really loved the Life is Good section. There were so many witty tshirts, mugs, and cards in that section that, honestly, I wanted to buy a bunch of it for myself. I refrained.
But, I did get FishPapa the card that says, "Make it a day you wouldn't mind reliving." I like that.
And a family gift….
The littlest ones (10, 7, and 5) were a little too distracted by all the singing things, or they suggested things that weren't quite practical to buy for the person in mind. However, we did agree on one great family gift: a travel journal.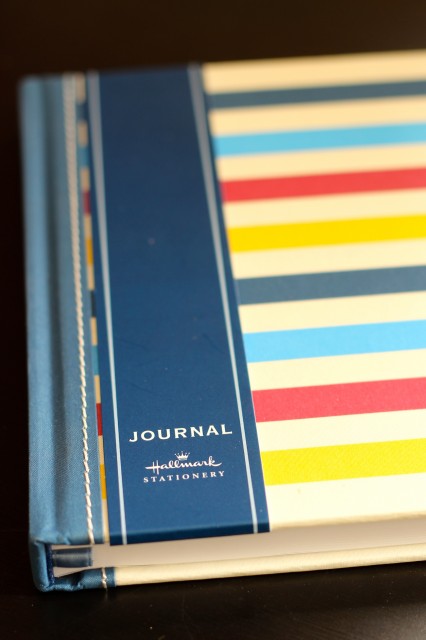 I have fond memories of picking out a new journal from Hallmark when I was in high school and college. I was pleased to see that they still carry them. Granted many of them were too girly for the FishMen, but we were able to find a great one. This will be our European Vacation Journal.
When FishPapa and I traveled France together over 20 years ago we kept a travel journal in which we took turns writing down the things we did each day. It's a great keepsake, particularly since the handwriting changes back and forth. I'm hoping the eight of us can do the same on our big trip this fall.
Overall, I think it was a great experience. We rarely go to the mall, so the kids looked at it as a real adventure. They loved looking at all the funny and pretty items to choose from in Hallmark. And they've each got their eye on a Christmas ornament for later this year. And there will be singing reindeer then. 😉
What's YOUR favorite gift to give or get from a Hallmark store?

Disclosure: I have been compensated for my time spent writing. All opinions are my own.