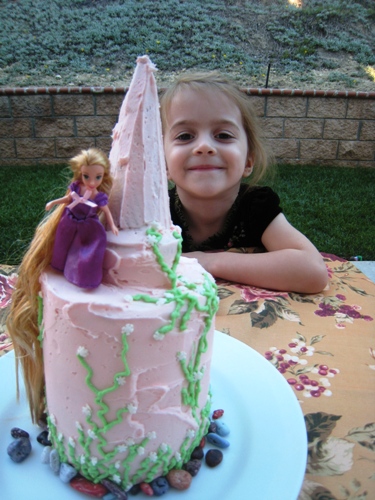 FishChick4 had her birthday yesterday. Not only did she ask for a Cinderella doll, but we also had a princess cake. And FishChick2 cried herself to sleep because she didn't get a Dora bicycle with training wheels.
Yes, girls are different than boys.
And while I would say that my girls are a little more complex (and higher pitched) than my boys, I am enjoying this new adventure as the mother of daughters.
One thing that's different is our dress-up paraphernalia. Though cowboy hats and bandanas still work, dressing up girls involves a little more bling and a few more accessories than I think the FishBoys ever cared about. When they went clothes shopping with my mom and me, I was stunned at the flashy items that caught their eyes.
Yes, we read a little Fancy Nancy around here.
So, what fun it was for my big girl to try out the Shailie toy this weekend. While this build-your-own dress up gown is designed for six year olds and older, FishChick4 still enjoyed arranging the jewels and trying on her creation.
Here's what Shailie has to say:
What kind of girl doesn't love playing dress-up?

Admit it, you do too. Now, what girl wouldn't love designing and playing in her own dress-up creations?

Kari created Style Paige LLC® when she couldn't find toys for her daughter Paige that inspired the same creative energy for girls that her sons' toys did for boys.

Luckily, Kari and her mother, Connie, are accomplished seamstresses. They began feverishly sewing dress-up components for girls to design, create, wear… and then switch it up and do it again! Shailie® was born offering sleeves, skirts, tops, and accessories of various styles, colors, and lengths. Girls can mix and match to create endless looks on their very own life size designer dress form making their creation a cinch to wear and model with friends. Let the fashion frenzy begin!

Shailie is taking the toy world by storm, earning the following awards already:

2009 TD MONTHLY Innovations Award
2009 Creative Child Magazine Product of the Year
Disney iParenting Award winner
2010 Oppenheim Toy Portfolio Gold Toy

You can follow Shailie on Facebook in order to find out their latest news and products
While my four year old did enjoy playing with the Shailie, I would stand by the company's recommendation of this being a toy for six year olds and older. Many of the pieces were too big for FishChick4 to wear comfortably, and she didn't quite "get" the idea of being her own fashion designer.
But, what fun your bigger girls could create!
This week one LifeasMOM reader will win a Shailie starter set.

To Enter:

Simply leave a comment on this post, sharing what kind of dress up your children love to do.
Giveaway will be open until Sunday, November 21st at 8 pm, PST. Winner will be chosen at random and notified via email. Please respond within 48 hours in order to claim your prize.
THIS GIVEAWAY IS NOW CLOSED. Congrats to the winner, decadent87@
Disclosure: Style Paige is an advertising sponsor of the Holiday Happiness series. I have not been compensated to publish positive comments. Please see my disclosure policy for more information.