The following post is sponsored by GoldieBlox:
This giveaway is now closed. Congrats to the winner: Kristybartlett@
I was a fairly prissy girl. I liked to read books, stay indoors, and not sweat too much. I wasn't very fashionable, and I wasn't into dolls all that much, but I was definitely all girl, despite the fact that I don't like pink.
It was the ultimate joke on me that God gave me FOUR BOYS right in a row — in seven years! Some women would have quit childbearing by that point, but by the time the fourth baby rolled around, I'd embraced the whole boy thing and I was totally fine with our having a fifth boy. . .
But, we got a girl.
And then another.
The last two cars on our train are girls. It's a different experience parenting girls. They respond differently to some situations than the boys did. Their whines feel harsher to the ears than the boys' did. But, it's been an amazing way to cap off our parenting experience. We also know that our girls are very much caregivers, so it's nice to know they'll be around as we age. 😉
That's not to say that the boys aren't, but anyway. . .
My girls have always been cool with their brother's hand-me-down toys. There have been no "boy toys" that we've chucked on account of having girls. The FishChicks go back and forth between trains and Duplos and play food and baby dolls without much issue.
The only time when we've butted heads has been when they've seen "girl-focused" brick toys. I've noticed that some brands "dumb-down" the lines that they've designed for girls. Rather than a set of bricks to construct a castle, the pink and purple set comes with large wall pieces instead, as if the girls can't or won't be patient enough to build the wall themselves. Call me picky, but I don't like that. Instead, I buy them pink and purple bricks (because that's important tot hem) and encourage them to build on their own.
Likewise, I encourage my brick-laying boys to think outside the set and build something of their own imagining.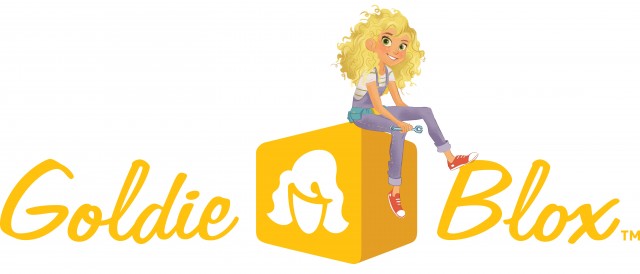 Since I have this bias against dumbed down toys for girls, I was eager to learn more about GoldieBlox, a toy company on a mission: to help girls stay interested in engineering and technology past that big dropoff at age 8. My girls loved opening the box of toys we were sent to review. FishChick7, an avid reader, latched on immediately to the motto that read, "more than just a princess".
Through books and building toys, GoldieBlox is envisioning both girls and boys to build and create. It's not anti-princess by any means, it's just encouraging girls to think beyond be rescued from the castle and to consider how to build the castle instead.
Debbie Sterling, GoldieBlox founder and CEO, found that boys tend to gravitate toward construction toys that strengthen their spatial skills, while girls tend to be more interested in stories and characters that strengthen their verbal skills. Debbie created GoldieBlox, a series of interactive books and construction sets that leverage girls' advanced verbal skills to help develop and build self-confidence in their spatial skills while having fun.
The stories feature Goldie, the star of GoldieBlox toys, a girl inventor who goes on adventures and solves problems by building simple machines. As kids read along, they build what Goldie builds with the included toolkit, learning engineering principles as they go. Each book features additional designs as inspiration for endless building possibilities.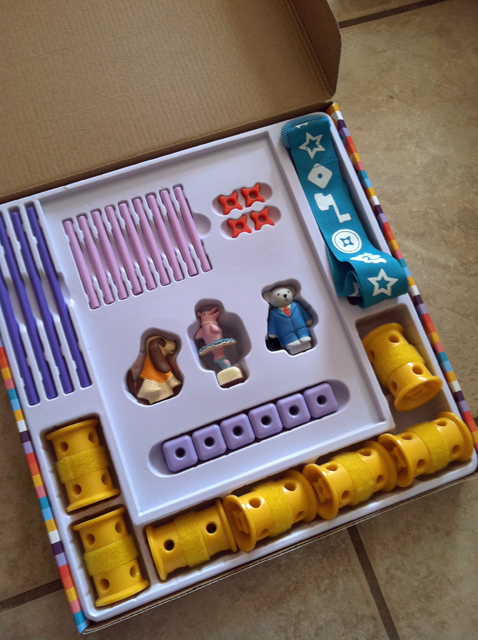 My girls received The Dunk Tank and Parade Float toys. I stepped back and let them go to it all on their own. Since FishChick7 is a fluent reader, it was no problem for them to assemble quickly and easily. They even filmed a video, but it's so blurry and WAY TOO CLOSE, it's just not ready to be viewed. Needless to say, they are thrilled with their new toys. They've played GoldieBlox every day for several weeks now.
While each set is complete on its own, I love that all GoldieBlox parts are intercompatible. They fit together and can be used with almost anything to build almost anything. I'm looking forward to adding to the girls' collection of parts so that they can continue building in a fun and spatial way.
Win some toys from GoldieBlox!
This week one Life as MOM reader will win The Dunk Tank and Parade Float toys.
To Enter:
Simply complete the information on this form. Please know that the information is only being gathered for the purposes of mailing you your prize in the event that you are chosen as the winner. This information will not be sold, traded, or given away.
This promotion is open until Sunday, August 31, 2014 at 7 pm PST and is limited to US residents, 18 years or older. Friends and family of Jessica Fisher and Life as MOM are ineligible for entry. The winner will be chosen randomly. This post will be updated with the beginning of the winner's email address. The prize for this promotion is provided by and shipped by GoldieBlox and/or its representatives. Jessica Fisher and Life as MOM will not be held responsible for unclaimed or undelivered prizes.
Disclosure: I have been compensated for my time spent writing. All opinions are my own.