Adding a little extra "something" to your plates come mealtime doesn't have to be complicated, difficult, or expensive. It just takes a little thought and effort.

As a family, we've had our seasons of richer and poorer — and everything in between. And we've got the memories to match.
My kids do a happy dance (literally) over Simple Bean Tostadas. These tostadas are nothing special: beans, cheese, lettuce, sour cream, and salsa on a crisp corn tortilla, but they comprise a simple and affordable meal that fills everyone up. It was my go-to meal when we were actively digging ourselves out of debt four years ago. Back then I served beans and rice in some form (for a main dish) about three times a week. Really.
And yet, despite its reputation as a bargain meal, tostadas are on the kid-approved list of "fun food" in our home. You should see the fist pumps when their appearance on the menu is announced!
Likewise, the kids recognize a special occasion meal that might push the limits of our budget. We might not indulge very often in Steak and potato dinners with cheesecake for dessert and sparkling apple juice. But, they truly appreciate this fun feast. And do another happy dance.
In good times and in bad, mealtime can be a special occasion.
Whether your grocery budget is everything you wish it were — or not — there are a few things you can do to give mealtimes a special touch and still stay under budget.
1. Quality matters.
Good quality ingredients can make a huge difference to the simplest of meals. In our very, very slim years, I experimented with bargain items, finding through trial and error which items mattered most to our family and our budget and which ingredients I could buy based on the sales price alone.
Good quality coffee, sour cream, and other dairy items were things that I didn't compromise on. I knew my family would balk (and so would I), so I found other areas to "skimp" on, like serving beans, rice, and pasta more often than meat or buying only the fruits and vegetables that were on sale that week. Shopping the clearance racks helped me add little indulgences without the extra price.
Now that we have paid off our debts, I still shop this way. I know which ingredients matter more than others.
A good salad dressing can make a meal taste like a million dollars while a bad tasting dressing will surely tank the best of salads. The same goes for breads. You can bake a tasty loaf for a few pennies or spend a few dollars on store-bough foam disguised as bread. Which would you rather have?
Thankfully, a homemade pantry staple can often beat even the best storebought items, allowing you to keep the quality without sacrificing the cash.
2. A little goes a long way.
Remember that "enough is as good as a feast." Using items in moderation help to offset our grocery bill, but still keep food fun.
We don't need pounds of cheese to make something tasty. A small amount of a tangy feta, sharp cheddar, or rich parmesa, can add great flavor without costing too much. Allowing room in the budget for little bursts of rich flavor makes a huge impact on taste as well as satiety. And often you don't notice that something else, like the meat, might be missing from the meal.
Likewise, using meat as a condiment rather than the star attraction is a great way to curb one's spending without losing the excitement of the meal. As long as my kids see meat somewhere on the plate, they're usually happy. It doesn't need to be a large steak to be great.
3. Serve a variety of options.
It's amazing how simple it is to make a bread basket filled with different rolls, muffins, and breads. But, the folks at your table will feel like you pulled out all the stops. You can even use one dough and form it into different shapes to add visual variety.
Offer options when the budget allows it, because variety helps you feel like you have more than plenty. A simple bean and rice supper can be dressed up with a variety of toppings, like chopped onion, tomato, cilantro, grated cheese, avocado, chopped bell pepper, salsa and sour cream, and then no longer is it simple.
Having choices makes us feel rich. Even when we are budget gourmets.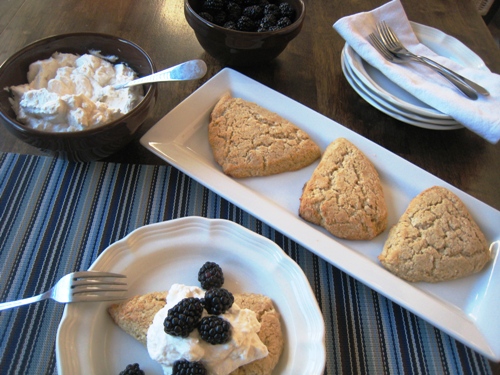 4. Focus on simple, yet tasty.
Complicated meals aren't always what they're cracked up to be. I find that meal times simply hum at our house when the food is simple and delicious. Whole grain shortcakes are about the easiest thing to bake, add some fresh berries and whipped cream and you'll have an elegant dessert for a few bucks. A hearty soup, a good baguette, and a nice slab of cheese can make a fabulous dinner.
My kids actually prefer simple baked chicken and mashed potatoes to many of my fancier recipes. And if happy tummies are any measure of "fun food," I'd say simple is often the way to go. Good food doesn't need to be high maintenance.
5. Consider the presentation.
A dollop of whipped cream, a drizzle of sour cream, or a sprinkling of freshly chopped herbs are "fancy" touches that don't have to be expensive. They can be sourced on sale or made or grown at home to save a few pennies. (Fresh herbs can be grown in a pot in your kitchen window.)
And yet these little extras add a restaurant quality to your meal, a special touch that says you care about the food you're sharing and the people you're sharing it with.
Whether you have an unlimited grocery budget or really need to make a penny scream, you can enjoy a delicious meal with your family. Truly, adding a little extra "something" to your plates come mealtime doesn't have to be complicated, difficult, or expensive. It just takes a little thought and effort.

Make food fun with the Eat Well, Spend Less Girls!
This post is part of an ongoing series about how to eat well and spend less. Along with some fabulous foodies, organizers, and frugalistas, I've been bringing you suggestions on how to eat like a king without becoming a pauper to do it. This month we're discussing how to make food fun!
From chasing away the February food blahs to fighting a cooking rut to making food more fun for kids, we've got you covered to enjoy your mealtimes more with the people you love.
Be sure to check out what the other ladies are sharing this week or browse their archives:
How do YOU make food fun?