The following is a guest post from Jenna of Food with Kid Appeal: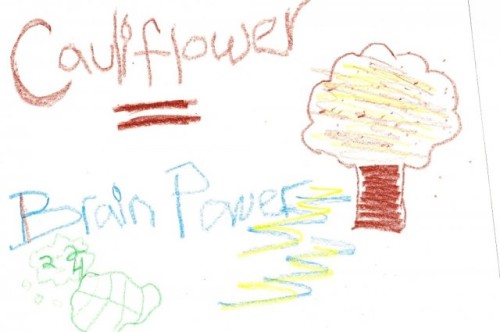 At long last! A tool to help busy parents teach kids how vegetables nourish their brain for optimal learning. Whether you homeschool or just want some enrichment activities over the summer, a Veggication is for everybody.
Veggication is a nutrition education program that introduces children to vegetables by kid-friendly experiences and activities.
Reading, writing and arithmetic? Check. Vegetables down the hatch? Check. Kids with nourished brains? Check. Three birds, one stone.
Some things that Veggication teaches:
Persuasive Literacy: Create a poster that will help your family, or homeschool community love broccoli. Use pictures, words and phrases that will excite and inform others.
Measurement: Give students a basket filled with vegetables. Practice measuring vegetables using a non-standard unit of measurement. Compare results with other students, and of different vegetable specimens. As other vegetables are introduced in the year, ask students to predict which vegetables will have more units of measurement.
Social Studies (economics): Visit a Farmer's Market. Understand which produce is grown in your community and season. Have students prepare questions to ask to the famers/vendors to learn which vegetables cost the most/least to grow, which ones sell at the highest price or quantity at the market.

Veggication has a number of different curriculum packages available: homeschool,  "at home" package and  "after school/camp" package for daycares/ schools, all designed to help kids fall in love with veggies.
Classroom Companion containing 19 lessons, weekly science activities and 5 learning games
9 Veggie of the Month Posters
Audio CD with Veggiecation theme song and dance
Recipe book including 36 vegetable recipes with kid appeal
I Tried it Stickers
Ballot Box Set
Membership to Veggiecation.com
You can purchase the Veggication package for 15% less when you use the coupon code LAM15 in the notes field on the shopping cart check-out.
This week four LifeasMOM readers have a chance to win a Veggication homeschool or "at home" package.
To Enter:

Leave a comment on this post, telling us your biggest obstacle to getting kids to eat vegetables.
This giveaway is open until Sunday, May 1st at 8 pm, PST. The winners will be chosen randomly and notified via email. They will have 48 hours to respond in order to claim the prize.
:: Jenna is a nutrition education consultant, veggiecating the nation, improving student academic success and health one school, one program at a time. She blogs at Food with Kid Appeal.
This is part of the Going Green series. Join us all week for daily giveaways and inspiration for small ways to go green.
Disclosure: I received sample product of this education program.