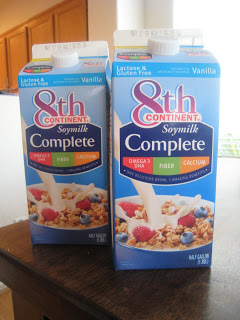 As 8th Continent is sponsoring six weeks of soymilk giveaways here on LifeasMOM, they sent us several coupons for our family to try their newest product: Complete. This new soymilk in their line packs a bigger punch then the others in that it is containes Omega-3 DHA for increased brain & eye development, fiber for better digestion, and calcium for optimum bone health.
But, what does it taste like?
Three of the boys and I each had a glass yesterday afternoon, and we all loved it! It was really good in my cereal, too. With its delicate vanilla flavor, I think it tastes a lot like a milk shake. In fact, several of us thought that it tasted more like "a treat" than like milk.
In the past I've thought that soy milk had a funky aftertaste, but I didn't notice that with this product. I give it two thumbs up.
So, you're gonna wanna win some!
All you need to do to enter this week's drawing is to fill in the form below. If you're reading this through a reader, please click through to LifeasMOM. (You are free to leave a comment, but only those who fill in the form will be eligible to win.)
Four winners will win two cartons each of 8th Continent Complete. Contest is open until Saturday midnight PST. Winners will be announced early next week. And if you don't win this time, don't worry. We've got lots of opportunities coming up over the next month.