THIS GIVEAWAY IS NOW CLOSED. CONGRATS TO #9 MISHIA AND #29 JEANNIE! SEND ME AN EMAIL WITH YOUR MAILING ADDRESS, PLEASE.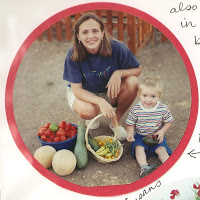 Many moons ago I had a large garden and a dozen fruit trees growing in my front yard. I was a young mom of 1 little guy back then. Oh my! My little guy and I spent that first summer heading out to our orchard to pick peaches fresh from the tree for our breakfast. We had so much fun harvesting our own fruits and vegetables. What luxury!
Or so it seemed. But, really, you can do this, too. Enjoy fresh fruit that you gre yourself. Got a little backyard? Got a big plot of land? It doesn't matter what size your space, you can grow fruit in your backyard. And today's giveaways will show you how.
Stello Otto, is a horticultural instructor, consultant, and fruit farm owner, with over 16 years experience in growing fruit. She has also authored two books to help the home gardener: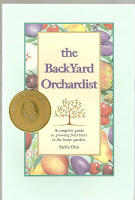 The BackYard Orchardist: A Complete Guide to Growing Fruit Trees in the Home Garden
. This award-winning book is a handbook for growing your own orchard. In reviewing it, I see that she covers all the bases, from climate concerns to ground preparation to how to fight those pesky bugs. This book gives you the knowledge you need to grow apples, pears, cherries, apricots, plums, peaches, and nectarines. Yum!
The BackYard Berry Book: A Hands-On Guide to Growing Berries, Brambles, and Vine Fruit in the Home Garden is a handbook for growing a wealth of fruits. I can't even list them all.
Both books are extremely detailed with plenty of illustrations and charts to equip you to handle any and all situation. Want to know what kind of soil you have? Check out the diagrams of sand, loam, and clay on page 23 in the BYBB. Ever wonder what fireblight looks like? There's a drawing of it on p. 182 in TBYO.
Today we have one book each to giveaway.
Two winners, each will win one book.
Just leave a comment telling what your favorite fruit is. Giveaway is open until Saturday night, PST. Please make sure your email address is available when you leave a comment.
I hope you win!