5/11/09 – THIS GIVEAWAY IS NOW CLOSED. WINNERS are: dcg2u, michellenotdawn, For their Future and leahrcole. Please send me your mailing address!
Having a baby? Know someone who is? Then this giveaway could be helpful.
Designed to teach all the basics on a subject, the Complete Idiot's Guides cover a wide range of topics. Here are two of particular benefit to parents: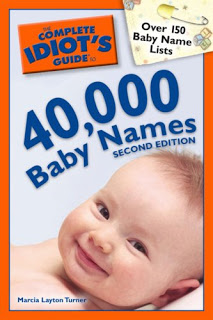 In addition to providing readers with an alphabetized name list for each gender, The Complete Idiot's Guide® to 40,000 Baby Names dedicates approximately half of its total pages to various lists that help parents zero in on the perfect name for their baby. Making the baby naming process a little less stressful and a lot more fun, the lists include:
• Movie/literary character names
• Names from favorite children's books and shows
• Famous names (movie stars, pop stars, reality TV stars … and more)
• Winners (Nobel, Pulitzer, Oscar, Tony, Grammy, Emmy … and more)
• Sport names (Olympic medalists, NBA All-Stars, NASCAR drivers …and more)
• Fortune 500 executives and well-known entrepreneurs
• Famous scientists and inventors
• World leaders, U.S. presidents, and first ladies
• Famous explorers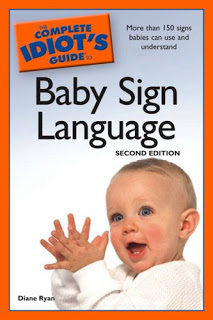 Sign language helps parents understand the wants and needs of their babies and helps increase verbal development as an infant grows. More than a way to bridge the gap between the gurgling stage and the time when babies are actually able to talk, baby sign language has become a national phenomenon. The Complete Idiot's Guide® to Baby Sign Language introduces parents to the 150 most common signs nonverbal babies are able to understand and can use to communicate with adults. Fifty new illustrations added to the second edition simplify learning for parents. New and expanded information includes:
• A section on "Baby Sign Language Express" – shows parents how to teach their babies to sign language in just two weeks.
• Demonstrations and techniques for teaching baby—and others—to sign
• Ways to identify and create signing opportunities
• How to combine two signs to make a sentence
• Using signs to communicate wants/needs
• Using signs to express feelings and emotions
• Signs for helping baby understand
• Signing to promote potty training
• Fun signing activities
• Verbal development
I have two copies of each book available to giveaway. That means four winners.
To enter for a chance to win this prize, you can do any or all of the following:
1. Leave a comment telling us what you're going to do for Mother's Day
2. Post about this giveaway and bring your link back here and leave another comment.
3. Tweet about this giveaway, including @fishmama in your tweet. Then come back and tell me you twittered.
4. Subscribe to LifeasMOM by email or subscribe in a reader.
That means you can leave up to 4 comments and have up to 4 chances to win. Please make sure I have a way to contact you if you win.
Contest will be open until Sunday, May 10th at midnight, PST. Sorry, only open to residents of the Continental US. Winners will be announced Monday morning at the top of this giveaway post.
I hope you win!