THIS GIVEAWAY IS NOW CLOSED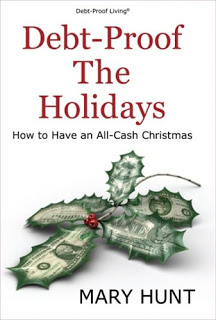 If ever there was a time for Americans to start pinching pennies, this would be it. I am so thankful that the Lord gave us a wake-up call about 18 months ago. We aren't completely out of Debtors Forest, but we can see the light through the trees.
Though we have done much to cut expenses and adopt frugal ways, there is always room for improvement. And as Christmas approaches? Oh my! Have you been to Target lately? I had a severe case of the gimmes the other day. You gotta be on your guard against overspending. And I don't know about you, but I need all the help I can get!
That is why I was so pleased to receive a copy of Mary Hunt's Debt-Proof the Holidays. This book is a great resource for charting a course for your celebrations as well as for your holiday spending. Mary Hunt speaks from experience as a former shop-aholic who had racked up debt with a lot of zeros on the end. She paid every penny back, but not before she learned a lot about money and budget living. This book, geared toward all holidays, not just Christmas, is a great resource to get you ready to fight off the gimmes this holiday season.
And the people at Debt-Proof Living have graciously donated a copy to one LifeasMOM reader! Yeah!
For a chance to win, please leave a comment with your name and one way that you will endeavor to be frugal this year. Contest will be open until Saturday night at 8 pm PST.