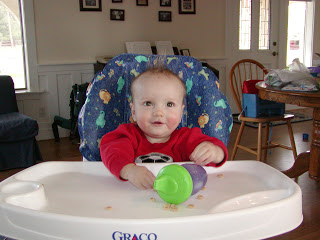 FishBoy, 2003, enjoying his Cheerios
Cheerios is a first food for FishBabies. It seems to be the perfect size for them to practice their thumb and forefinger grasp. It's easy to transport for an on-the-go snack. And everyone in the family loves them. This delicious cereal is a part of our heritage, part of our memories.
If you've been reading here awhile, you'll be shocked to find out that my baby is going to be sixth months old next week. I am amazed at how quickly the time has flown. She is super alert and social and starting to put everything in her mouth. Before too long, she'll be sitting in a highchair, eating her Cheerios!
So how could I say, "No," to a giveaway for Cheerios?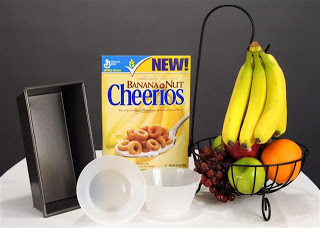 And today's giveaway features a new flavor. It tastes just like Banana Bread!
Banana Nut Cheerios® combines the whole grain goodness of Cheerios® with the great taste of real banana – a breakfast your whole family will love! Even better, Banana Nut Cheerios® cereal is a good source of calcium and Vitamin D, and is made with whole grain. It may reduce the risk of heart disease as part of a heart healthy diet.
This week three LifeasMOM readers will each receive a Banana Nut Cheerios® gift basket that includes a coupon for the new product, a banana tree with fruit basket (fruit not included), a bread loaf pan and a set of two cereal bowls.
For a chance to win one, fill in the form below. The winners will be chosen randomly after midnight on Saturday, February 21st PST.
In the meantime, go here to print a coupon good for $.55 off this Cheerios so you can be one of the first to try the new variety. There are also recipes to try using this cereal here.
If you're viewing this in a reader, click through to LifeasMOM so that you can view and complete the form. You can leave a comment, but only those who fill in the form will be entered to win.
I am not going to sell your addresses or anything funky like that. Just want to have your contact info in order to send you your gift basket.
Form is here. Use the scroll bar to view the questions.