THIS GIVEAWAY IS NOW CLOSED. CONGRATULATIONS TO #11 KRISTY, #13 TALLYMICHELLE, #15 MICHELLENOTDAWN, #16 YARDSALE PRINCESS, #19 LERINLEIGH. PLEASE SEND ME YOUR MAILING ADDRESSES.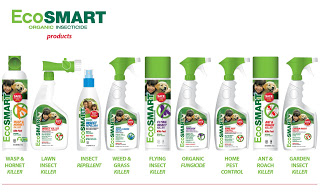 Being "green" doesn't just mean doing things that are good for the environment. In my mind, it means doing things that are good for the people in your environment. For me that means reducing my family's exposure to chemicals. I try to avoid using caustic cleaners or cosmetics. This includes what we use to deter bugs.
I'm not a bug girl. Let me repeat. I'm not a bug girl.
Our rental house was inhabited with ants when we moved in. Inhabited, overrun, filled to the brim. I cringed at having the exterminator and all his chemicals come into my home. But, I hate bugs more than chemicals. So there.
I'm holding my breath that they don't return. But, as the weather starts to warm up, bugs start to become a little more active. We've already had a few mosquito sightings at our house. And the location of our monthly homeschool park day is riddled with little black bugs. Ugh. No. thank. you.
But, this post on the EcoSmart blog, Natural Insect Repellent – In Your Spice Rack offers some great alternatives to the conventional means of battling bugs.
Recently, our family received some EcoSmart organic bug repellent to try out. I doused the kids at parkday last week and was pleased by the experience. The kids liked it because it smelled like bubble gum. Really and truly it did. And from what I can tell, the kids were not pestered by insects during our stay at the park. I can't vouch for its effectiveness against chiggers, because well, thankfully, I don't have chiggers in my backyard anymore. Hallelujah! (But, that's another story….)
I shared one bottle with my brothers who are outdoor adventure guides. They lead groups on canyoneering/camping trips out in the wild. So, they come in contact with quite a few little critters. JJ said that what he liked about it was that it didn't run into his eyes when he got all sweaty. Guys tend to do that. Sweat, that is. And, I guess bug repellents tend to run. Who knew?
This week EcoSmart is giving free product to five LifeasMOM readers so you can try it out for yourself. Very cool.
This contest is open until Saturday (4/25) midnight, PST. Winner will be chosen at random. You cannot win unless your email contact is available. There are several ways to enter.
1. Leave a comment telling us how you fight the Battle of the Bugs.
2. Tweet this giveaway (use @fishmama) and come back here and leave another comment, telling me you tweeted.
3. Write about this giveaway on your blog and bring the link back here.
4. Subscribe to www.LifeasMOM.com via a reader. Leave a comment telling me you did so.
I hope you win!