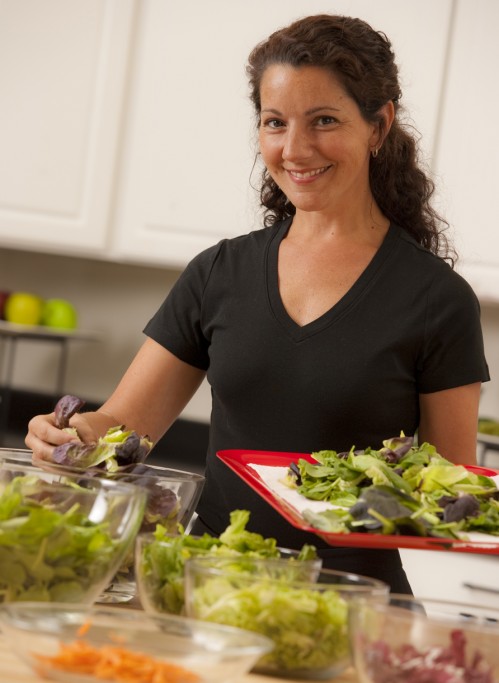 **GIVEAWAY CLOSED **
Fresh greens are a mom's best friend. In fact, most days my preferred lunch is a big green salad. It's an easy, nutritious lunch that helps me feel good about how I'm eating. And, often, it's a regular party in the mouth.
While homegrown lettuces are best, not all of us have been able to swing that. Often, a bag of mixed greens is a simple convenience to throw in the grocery cart.
Fresh Express, a salad company, has now developed an online Leaf Locator which tracks nearly50 million bags of lettuce and spinach each month sold in 24,000 grocery stores nationwide." It's one way this produce company is making efforts to communicate with their clients.
Even if you don't have a bag of salad in the fridge, you can test out the Leaf Locator as well as find a variety of recipes that feature that lettuce blend. The Fresh Express site also provides helpful background to how the salads are grown, mixed, and delivered. You can even enter to win a year's worth of salad! I was pleasantly surprised to see all that their site holds.
Want to win some salad this week?
**10 readers will each win 2 coupons for free Fresh Express salad.**
Simply tell us your favorite way to enjoy greens in the comment section below.
Contest will be open until Sunday, April 25th at 8 pm, PST. Winner to be chosen at random and announced next week.
This giveaway is now closed. Congrats to jkseiler@, spendless2savemore@, calmyra@, robert.cross22@, calliope050502@, devo62680@, cookingluck29@, teach014@, momoemail55-cl@, katerw13@
Disclosure: I received a few free salad coupons but was not compensated to share my opinion or to post this giveaway.