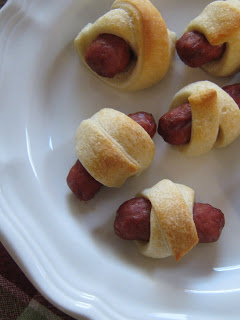 CONGRATS TO MommyDevan, Cocoa Lover, Nancy, and Sarah!
I have no recollection of eating "pigs in blankets" when I was a child. But, Lil' Smokies were a regular part of our Christmas morning, nonetheless. My dad is a huge fan! Huge! And every Christmas morning without fail, he fries up a panful of lil' smokies until they're hot and crisp.
Though I don't have any culinary memories of "pigs in blankets," my kids do from our years living in Kansas City when Mrs. D, their "adoptive" grandmother would make them for them.
Hillshire Farms sent me some free product coupons and a Walmart gift card recently in order to try out some of the recipes on the new website, Tasty Holiday Ideas, that they've created with Sara Lee and Walmart. I thought it would be appropriate to make these little guys for my little guys. I was amazed at how quickly they devoured them at lunchtime. Needless to say, they loved them, and are looking forward to New Year's Eve when I make them again. We're going to try out the turkey variety then.
Pop over to Tasty Holiday Ideas where you'll have a chance to enter a contest for a $500 Walmart gift card as well as play a fun matching game. (I must confess, I got a little caught up in trying to get a little higher score. )
Today for my last giveaway of 2009, two winners will each win a free Hillshire Farm product and two other winners will win a free Sara Lee Bakery product. Contest will be open until tomorrow night at 8 pm, PST.
To enter: Simply tell me your favorite Hillshire Farm or Lil' Smokie memory.
Go Meat!