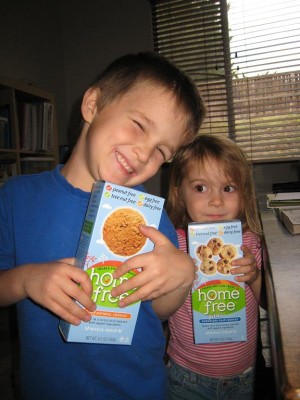 Got some cookie monsters at your house? We sure do. These two are such a pair. When they aren't squabbling, they play so well together. And one thing they do super well together is eat.
I swear I am feeding hobbits over here. They are always hungry. So much so that it's become a family joke, when FishChick says, "Nanna, I hunree."
I swear, Mom, I do feed them.
Like most children, they love cookies. And since I'm on this new health food kick, I've eschewed most store-bought cookies. (Mine are better, anyway.) But, every once in awhile it's nice to have some prepackaged item to tote around. So, I'm open to trying new things, especially if the manufacturer exerts some efforts to make the food just a little bit healthier.
Last week we had the chance to taste Home Free Cookies. These are billed as an allergy-free snack.
According to the manufacturer:

HomeFree products are:

§  Free of peanuts, tree nuts, eggs and dairy

§  Certified whole grain – each cookie serving contains at least ½ serving of whole grains

§  Certified organic

§  Fine for most people allergic to wheat (not gluten-free; contain oats)

§  Fine for most people allergic to soy (most contain soy lecithin)

§  Baked and packaged in a dedicated bakery

§  Allergen tested

§  Without trans fat or cholesterol

§  Without corn sweeteners, artificial colors, artificial flavors, MSG, and genetically modified organisms (GMOs)

§  Certified vegan (oatmeal cookies, and coffee cakes)

§  Certified kosher pareve and some available Pas Yisroel
While none of the FishKids have confirmed allergies, our history of eczema has given me more than one raised eyebrow when my kid reacts to a certain food. We've also had friends whose children have food sensitivities and allergies. While we are super careful when entertaining these friends in our homes, I know that isn't always the case.
As a mom, and a clinical psychologist, I realize how important it is for kids with food allergies to feel included at social occasions, where a sweet treat is often part of the fun. – Jill Robbins, founder
Families with food allergies need to be extra vigilant to make sure that what their child ingests is not harmful. At the same time, you don't want your kid to be consoled with a few carrot sticks while the rest of the party is eating birthday cake. Home Free Treats were created with this in mind.
When you hear that something is dairy-free, peanut-free, tree nut-free, and egg-free, well, you just might wonder if it's taste-free. We were very pleasantly surprised.
The FishFam gave these treats the test. We came, we tasted, we gave them two-thumbs up. I thought they were delicious. I love it that this is a whole grain, organic snack. Yes, it's a "treat," but such a step up from Sugar-Coated Cocoa Munchies.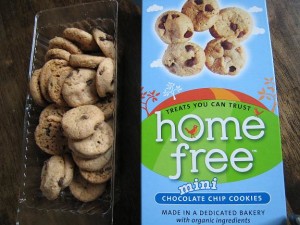 Today I've got a bunch of boxes to give away! Yeah! Three winners will each receive two boxes of cookies (one oatmeal and one mini-chocolate chip).
Simply leave a comment, telling us who you'll share your cookies with if you win.
And if you don't want to share, if you want to be that mom who hides in the laundry room to sneak a sweet treat, and mumbles, "Nuffing, " when your 3 year old says, "Whatcha eating, Mama?" Well, I won't say a word. Not one single word.
Contest will be open until Sunday night at 8 pm PST. Winners to be chosen at random and announced next week.
This giveaway is now closed. Congratulations to aandswb@, bt31764@, tabascolds@
Disclosure: Our family received samples of Home Free Treats to taste. I was not compensated to share my opinion. The statements above have not been influenced in anyway by free cookies.