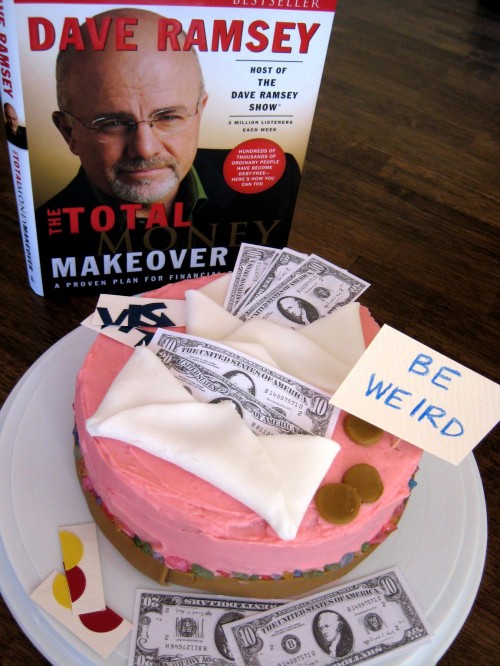 Two things are certain in this life: Death and Taxes. So said Benjamin Franklin many years ago. This week it's time to pay up. At least the tax part. In honor of Tax Day, I decided to offer up a great giveaway.
Time to tell your money where to go!
You know that I am a HUGE fan of Dave Ramsey. Three years ago we woke up and smelled the debt. And Dave helped us find our way out. One of the key themes of Dave's message is to tell your money where to go. If you don't, it will still go someplace, just maybe not where you want it to. Time to change that. And Tax Day is a great time to start.
This year has been a Dave-themed year of sorts. I've made the cake. I've met the man. I've read the book. Now I want to share it with you.
Three

SIX winners will receive a copy of The Total Money Makeover by Dave Ramsey.

Thanks to a generous reader, Deanna, for upping the anty. I now have SIX copies to giveaway. Woo hoo!

There are three ways to enter:
1. Leave a comment telling us where you're going to tell your money to go this year. Savings? Debt? Vacation?

2. Subscribe to LifeasMOM in a reader or via email. Then leave a second comment telling me you did so.

3. Tweet about this giveaway and then leave a third comment letting me know your twitter handle. Make sure you use @fishmama so I will see your tweet.

This contest will be open until Thursday night, April 15th at 11:59 pm PST. Tax time! Winners will be chosen at random and announced sometime Friday. This giveaway is provided by my pocket book (and one generous reader who matched me on prizes). My opinions are my own. This giveaway is now closed. Winners are posted here.