Go for Coffee with Someone You Love
We are a participant in the Amazon Services LLC Associates Program, an affiliate advertising program designed to provide a means for us to earn fees by linking to Amazon.com and affiliated sites. We participate in other affiliate programs as well. For more details, please see our disclosure policy.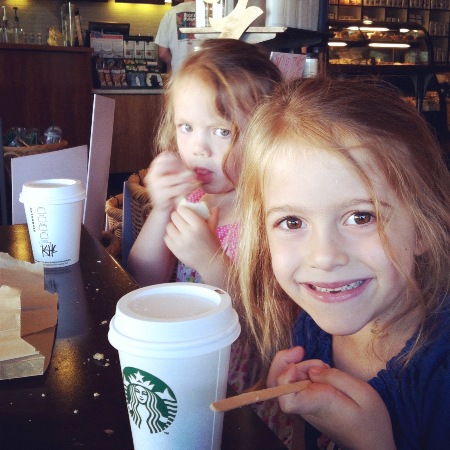 We are coffee and cocoa and tea people around here. Hubs leans more toward coffee, half the kids toward cocoa, the other half toward tea. I sway back and forth among all the choices.
The point is we like to be cozy with a hot drink, especially in colder weather.
Lately, I'm getting the chance to "go to coffee" with some or all of my peeps. The above picture was shot on our fall vacation. We left at 4 am and made our first stop at Starbucks. The kids were thrilled with their special drinks!
A couple times a week I get to go on dates, one with my husband and one with one child. Each is a special time to hang with someone I love. We go to Starbucks or Peets and get hot drinks and talk.
We could certainly do the same thing at home, but there's something special about going to a coffee shop, especially in a house as loud and full as ours. It's a great break in the week to reconnect and spend time together.
"Going for coffee" is a great way to stop and smell the roses.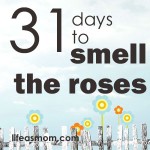 The days are long, but the years are short. I don't want to miss them! For more short and sweet ideas on how to stop and smell the roses, to enjoy the little things in life, check out my 31 Days to Smell the Roses series.
Don't miss a post in this series. Subscribe to 31 Days to Smell the Roses by RSS or email.