Go on a Date
We are a participant in the Amazon Services LLC Associates Program, an affiliate advertising program designed to provide a means for us to earn fees by linking to Amazon.com and affiliated sites. We participate in other affiliate programs as well. For more details, please see our disclosure policy.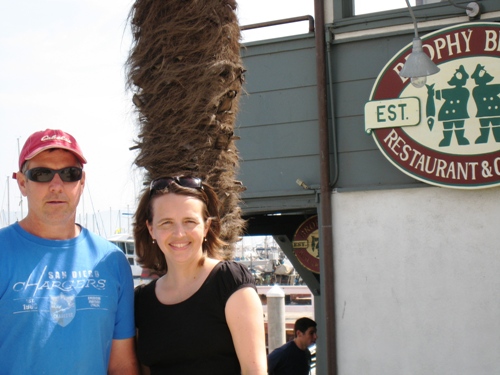 Tonight we took the fam on a impromptu dinner out. It wasn't in the plan. But, my car broke down on an errand at dinner time. Since hubby had to come help me anyway, we made a meal out of it.
I'd like to say that we had deep, meaningful conversation over our rice bowls, but it's kinda hard to do when you hear:
Why is Wall Street called Wall Street?
Mom, it's your turn for I-Spy….
So, in this book I was reading….
Now, what's wrong with the van?
ALL AT ONE TIME! With someone else singing the Iron Man song in the background.
Clearly, this is why we go on a weekly date night. 
We didn't always have the luxury of a date night out. There were babies to nurse and no money for babysitters and meals out.
But, our kids did have early bedtimes. And I don't think there were always six of them around. Back when we had all littles, it was easy to have one-on-one time after the kids went to bed.
We often had at-home date nights where we made a special meal and watched a movie in bed. Sometimes a neighbor friend offered to take the kids for a few hours, too. It all worked out well.
Today "alone time" is more elusive, especially with older kids that stay up later. But, said older kids are also able to babysit. Score!
So, once a week we go out alone, even if it's just for a few hours. Sometimes we splurge on this amazing Italian restaurant nearby. Sometimes we use a coupon on fast food.
Either way, it's great to focus on our own individual meals and to finish our sentences!
We get the chance to catch up, troubleshoot, and dream big dreams together.
Dating your spouse is a great way to stop and smell the roses.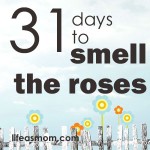 The days are long, but the years are short. I don't want to miss them! For more short and sweet ideas on how to stop and smell the roses, to enjoy the little things in life, check out my 31 Days to Smell the Roses series.
Don't miss a post in this series. Subscribe to 31 Days to Smell the Roses by RSS or email.