Goals and the New (Half) Year
We are a participant in the Amazon Services LLC Associates Program, an affiliate advertising program designed to provide a means for us to earn fees by linking to Amazon.com and affiliated sites. We participate in other affiliate programs as well. For more details, please see our disclosure policy.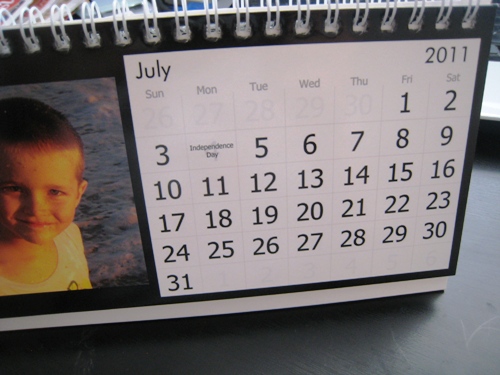 Remember when we set some goals for the year? Way back in the wintry days of December and January…. Last week I mentioned that halfway through something is a good time to assess progress made and determine what's left to do, enjoy, or accomplish. Over the last couple weeks, I've spent time looking back on some of those goals that I made so many months ago. Here's why I'm at:
Personal
Writing
Write a cookbook – This is going to consume the next 6 months in earnest. Pray for me!
While The Book is not "done-done" (it has the editing process to go through), the manuscript is complete. Amazing! That, obviously, was a huge thing to cross off the list. Thank you for praying for me! It was a pretty crazy six months. I ended up creating over 120 new recipes and trying some new freezer cooking techniques that will really help me out in the kitchen. That last week of fine tuning the manuscript was a crazy one, very, very much like having a baby. At least for me. As hubs describes it, when I went into labor each time, I entered The Zone, where I was very focused on the event at hand and blocked out all distractions. That's when he runs interference with the kids, takes care of meals, mans the battle stations. And there were about three days that week when I was clearly in The Zone.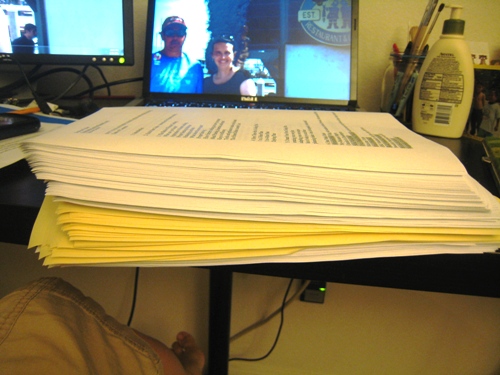 While not as exciting as adding a member to the family, it was a very big deal to, well, write a book! Above is the stack of manuscript pages that I printed out prior to my last edits. Huge monster stack of paper! In many ways it is a dream come true. I wanted to be a writer when I was very young, but gave that up as teenage boys eventually give up their dreams to rock stars or professional athletes. I now believe that even the craziest dream can happen.
Reading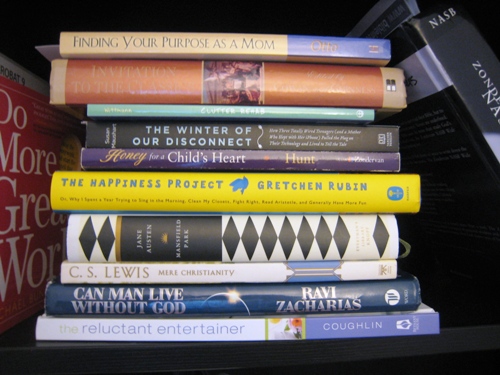 Read good books – Stay tuned for news later this week about our Booking It reading program. I am really excited about it!
If not for you all keeping me Booking It, I don't know that I would have made the time to read. Accountability has served me well. That, and my Kindle. So, thanks! I've read some great books so far this year. Here are those that I've reviewed so far in case you're looking for a good read:
When I compiled my list, I was stunned  that I had read so many books. I didn't know it was possible. But, allowing myself that 30 minutes to read everyday has really made a huge difference. On my plate this month are The Help and The Bible (in 90 Days).
Time Management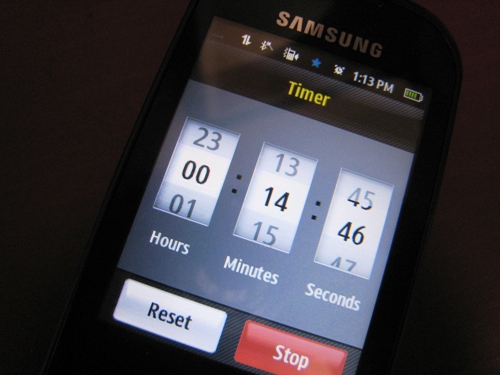 Manage my time better – I've fallen back into the bad habit of attempting too many things at one time. I need to take a step back and focus better.
I was on a roll for awhile with my time budget, but in the last month, my time management has been in survival mode. I am looking forward to finding a new normal this month. As a family, we're adding a few new activities, like daily trips to the pool and some sports for the older boys. So, I'm in dire need of readjusting my time budget. More on that later.
Health
Get healthy – I'm long overdue for a physical, and I definitely need to get back to exercising and eating well. I get winded easily and want to make sure that it's just laziness and not an underlying problem.
I got my moles checked in May, and one was removed. The biopsy was normal. I have a physical scheduled for August. And I've been getting to bed by 10 most nights, which is great. The extra sleep and conscious efforts at relaxing are resulting in feeling better physically. I'm also trying to figure out an exercise plan that fits me, ie one that I actually enjoy. The pool doesn't really count since I'm watching the little ones instead of swimming, so don't be too impressed.
Family

Enjoy more down-time with my husband and kids – I want more personal connections with each member of my household, more conversations, more fun, more un-plugging.
Obviously, this is an ongoing goal. We went away for the holiday weekend which was great! And are looking toward planning more family travel. In fact, hubs and I were talking recently about how life would be different if we'd had fewer kids. We both concluded that we would have traveled more.
And in the next breath, we both said, "Let's not let our family size get in the way of that." Surely, there's more to pack and more people to keep track of, but I don't want our number to be a discouragement to who we are or who we want to be.
So, we're looking over the United States map and making notes of the places that we'd like to visit, many or most of them national parks and natural landmarks. We're even considering, gulp, several long road trips over the next four or five years, to the Southwest, New England/Montreal, the Pacific Northwest, and the Virginia/DC area.
Hold on to your hats, campers!
Home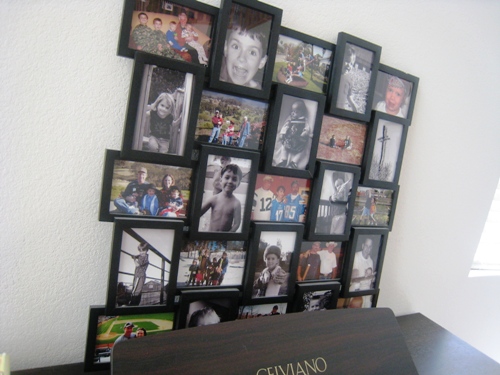 Do something with our photos – The girls don't have baby books and most of our framed photos are sitting in boxes. We all enjoy looking at photos, so I want to do something to make that happen.
I can't say that much of this has changed, though I did print and frame some pictures earlier in the year. They have yet to be hanged. But, that's on my list for this next couple months. Get the pictures on the walls. Still haven't tackled the photo albums, though I know my kids would love it if I did.
Dejunk and reorganize – We're due for a huge simplification process around here. You all inspired me in the comments of this post to downsize, so before Christmas I filled the minivan with discards. And I'm afraid I've only scratched the surface.
Oh, yes, this one is always one that I feel pretty intensely in the summertime when I have a chance to catch my breath and notice all our junk. I'm thinking that a cupboard or drawer a day might be the way to go. Our neighborhood is having a garage sale later this month, so that may be good impetus to let go of some things.

Financial
Save for the Big Kahuna – We don't know what TBK is at this moment, but we know that we have room to save, so we're going to try.
We are still saving as much money as we can. We don't really have a name for it, though. I think once we name it, we'll feel more motivated to save more. That's my theory, anyway.
We recently sponsored a second child through Compassion and are looking toward increasing our giving over the remainder of the year.
Enjoy the freedom of our frugality – Our trips to Monterey and Mammoth were so fun, it was definitely worth it to eat bean and rice dinners to be able to pull it off. Having enjoyed such a nice vacation encourages me to keep scrimping so our family can enjoy some more adventures.
We are definitely doing this. While we haven't taken too many trips, we've enjoyed little extras. Being debt free really is all it's cracked up to be. So keep plugging away at your debt. It will be worth it!
Better late than never
It's never too late to map out a course for your life. Print out this planning page if you are looking for someplace to fill in the blanks and start dreaming some big dreams. Nothing is too crazy.
How are YOU doing on your goals for the year?