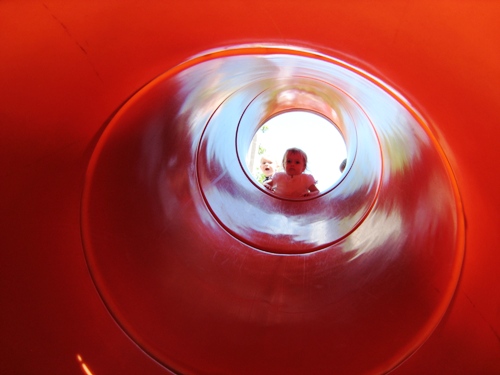 The look on her face says it all. The bottom is a long way down. I was waiting for her at the bottom. But, she was apprehensive, nonetheless. She made it down. And I caught her.
God is like that, waiting for us at the bottom of the slide. The journey may be scary. It may even have some twists, turns, and bumps. We may skitter down like sticky legs on a plastic slide on a hot day. Or we might slide faster than we expect and pick up speed. We may land with a thump.
It might be a thrill. Or it might be terrifying.
But God is there to catch us with open arms. And if, for some reason, we land on our bottoms, He's there to pick us up and dust us off.
He says, "Be still, and know that I am God;
I will be exalted among the nations,
I will be exalted in the earth."

The LORD Almighty is with us;
the God of Jacob is our fortress.
What scary slide are you heading down?
How can you trust God more in the midst of it?