Going, Going, GREEN!
We are a participant in the Amazon Services LLC Associates Program, an affiliate advertising program designed to provide a means for us to earn fees by linking to Amazon.com and affiliated sites. We participate in other affiliate programs as well. For more details, please see our disclosure policy.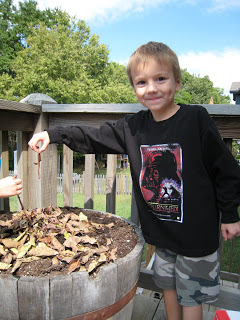 When I was in college, "environmentalism" was a hot topic. My college had an environmental studies major, and there were recycling bins, and there were rallies — and you got plenty hassled if you didn't do things that were "good for the environment."
Quite honestly, it was a little annoying. It seemed that many people were worshipping the environment. And since I wanted to worship God, in some ways I just rolled my eyes at those "green ways."
Thankfully, God has grown me over the years.
Today, I see green things as acts of good stewardship. God has provided such a wonderful, beautiful world for us to enjoy. Don't we want to take care of it?
In addition to reporting how we've gone green at our house, this week I am pleased to share with you several guest posts from fellow moms who have done the same. They'll be sharing their experiences of putting good stewardship into practice.
Stay tuned for
** Great giveaways, including a chance to win 8th Continent Complete soymilk, fruit gardening books, Better World Books gift certificates, a reusable shopping bag from Envirosax, and EcoSmart organic insect repellant.
** Ultimate Recipe Swap: Meatless Main Dishes (sorry, no desserts this week!)
** How to Decorate Cheap and Green
** Worm Composting as well as the Traditional Method
** Reducing Waste
** Cloth Diapering
** Planting An Orchard
** Frugal Ways to Go Green
** Homemade Cleaning Products
** Green Living
I hope you'll join us for a fun, God-glorifying, Earth-friendly week!