Gonna Learn Our Multiplication Tables – Or Else
We are a participant in the Amazon Services LLC Associates Program, an affiliate advertising program designed to provide a means for us to earn fees by linking to Amazon.com and affiliated sites. We participate in other affiliate programs as well. For more details, please see our disclosure policy.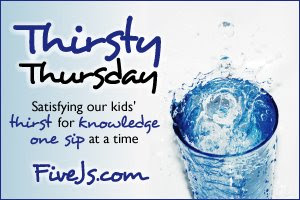 While I'm digging out the clean surfaces in the schoolroom, the boys are enjoying some free time. Sure, I'm putting them to work on chores, and we've caught a free flick this week, grocery shopped, and picnicked at the park, but they have plenty of time to read or play outside. They generally don't get bored. With four FishBoys entertainment abounds.
But this is only Day Four of summer vacation. We'll see….
In the meantime, I know that there is data I don't want their brains to lose over the next six weeks. That will make Back to School that much harder. I plan to have the guys spend some time everyday reading as well as practicing their math facts. I had hoped to find a fun software program to tackle the latter so that I don't have to hear the whines and groans when I hand them a fact sheet.
In cleaning out the schoolroom I found two large math posters that someone gave us. Use it or lose it, I say. So, I asked myself, "Where do they spend a lot of time where they might actually look at this?"
Perfect solution!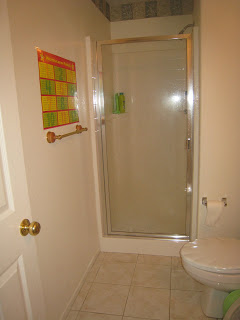 What are you doing this summer to keep your kids brains from turning to mush?
Get inspired for learning at home with Joy.