A peek into our kitchen as we welcome spring and endeavor to fill our plates with good cheat eats.
Not everybody likes to cook. I get that. And not everybody likes to eat. I don't get that, but I love you anyway. Three years ago, I realized that I might bore the non-cooking camp with a little too much food talk.
If you knew me in real life, you'd just have to get used to it. Eating is my life!
But, so as not to be a bore, I started a food blog. I don't think I even had any pictures at the beginning. But, I started taking snapshots of the things I was cooking while my husband rolled his eyes in the background. Nowadays, it's perfectly normal to have a photo session in the kitchen. Weird how things change like that.
Anyway, if you DO like to cook — or at least like to eat, hop on over to Good Cheap Eats and check out the latest doings in the FishFam Kitchen. It's been a pretty tasty month.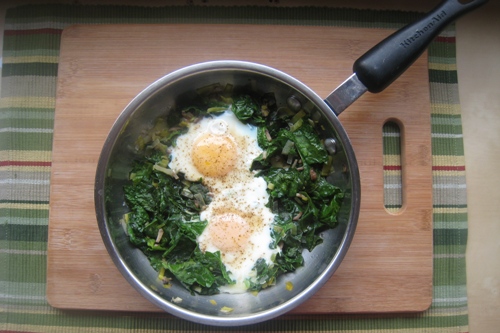 Kitchen Tips
Using Balsamic Vinegar to "Fix" a Sauce
How to Reduce Grocery Spending (Reader Q&A)
From the Produce Box
Currently, I subscribe to an organic produce co-op. Located in Central/Southern California, this cooperative of farms, Abundant Harvest Organics, delivers boxes of fresh produce each week throughout the state. I've had such fun exploring new vegetables, with some triumphs as well as failures. And we're buying our fruits and veggies a little closer to source.
Eat Your Spinach! (And a Recipe for Skillet Poached Eggs with Spinach, Pea Tendrils, and Leeks
Make Lemon Cubes
What in the World are Pea Tendrils (Orange and Avocado Salad with Pea Tendrils)

Grocery Geek
The Grocery Geek Update used to be a regular feature on Life as MOM. However, I've moved it over to Good Cheap Eats to maintain that continuity of food talk. Currently, I'm on a mission to reevaluate our food budget in light of my other goals of eating more healthfully. This is a challenge! But, since the coupon world isn't what it was when I first started out, it's not such a big leap in price to buy more organics and less processed foods.
Each week I post my grocery totals as well as pics of what I bought. This month was a challenge, but you'll have to read how here:
Big Eaters Abound
Buying Better Food on a Budget
The New Normal?
Just Keeping It Real

Recipes
These weren't the only recipes I shared this month, but these are sure-fire winners. (Don't forget to visit Ultimate Recipe Swap here on Life as MOM for a weekly round-up of themed recipes.)
Cheese and Herb Biscuits
Paso Mom Tacos
Mixed Berry Pie with Cinnamon and Lemon
Meal Planning Ideas
I used to post my meal plans on LAM. Those have also moved to Good Cheap Eats. Come join in the conversation!
Monthly Meal Planning for March
Delicious Potluck Dinners
Meals to Make Your Vacation More Relaxing
The Eating O' the Green
Grab and Go Meals
Have Breakfast for Supper (Recipe: Stuffed Breakfast Potato)
Delicious Ways to Go Meatless
Tasty No Bake Desserts
Want the dish on delicious ways to act your wage? Subscribe to Good Cheap Eats in a reader or via email.