Looking for great budget-friendly recipes or money saving kitchen tips, check out Good Cheap Eats on YouTube.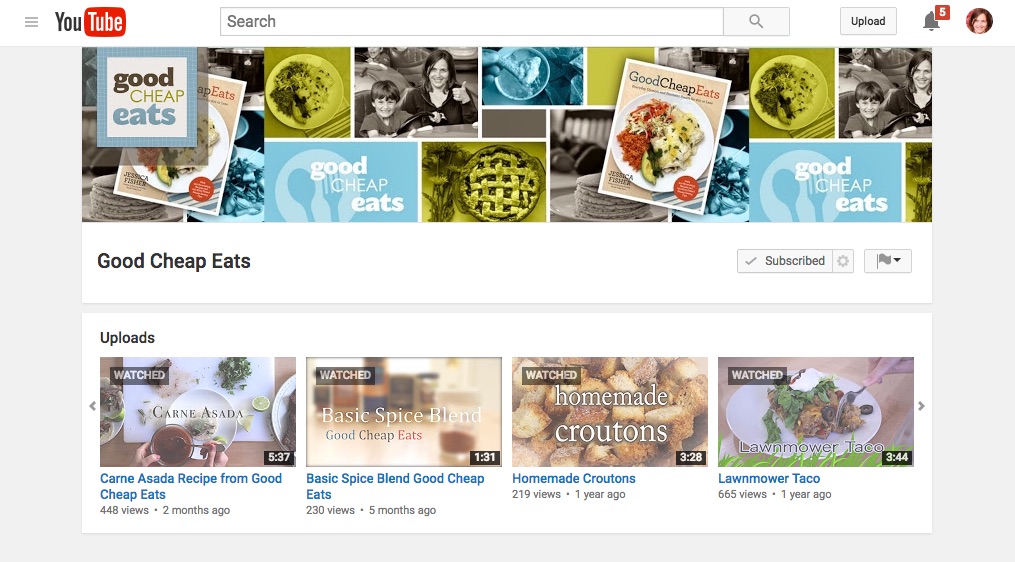 About a year ago, FishPapa started researching videography. He's a musician, by passion not profession, and has worked in recording and sound — and he's always been pretty savvy with a camera — so it was a perfect fit that he'd pursue video as his next thing to learn.
We decided that we'd start a Good Cheap Eats YouTube channel and see what we could do. It's taken some trial and error and a few bitten tongues, but it's working out to have me in front of the camera and him behind it. And we haven't even had to get a marriage counselor. I call that a win!
So far, we've got a handful of videos on the channel, but they are precious to me. They represent his labor of love for me to show my best side and help me help others enjoy good cheap eats.
Good Cheap Eats on YouTube
Here's our most recent video, How to Store Strawberries to Keep Them Fresh, complete with a pop culture reference that I hope you will get. 😉
Fun little animations are becoming a trademark. There are a few more in the other videos. We'd love it if you would subscribe to the channel here or give a thumbs up to any (or all!) of the other videos we've created.
Fun fact: Good Cheap Eats started because I found that I wanted to talk about food a little bit more than I thought Life as Mom could handle. It made sense to have a food blog separate from this home and family space. While you'll still see plenty of recipes, freezer cooking plans, and meal-planning tips here, the bulk of the food talk is over on Good Cheap Eats.
Thanks for your support on Good Cheap Eats as well as Life as Mom!