Good Friends and Grime
We are a participant in the Amazon Services LLC Associates Program, an affiliate advertising program designed to provide a means for us to earn fees by linking to Amazon.com and affiliated sites. We participate in other affiliate programs as well. For more details, please see our disclosure policy.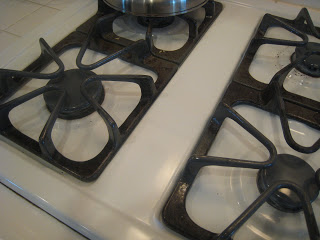 This past weekend our friends Devin and Jessika and their children came to visit. We've known them since we were newlyweds. They are those friends that you can "let your hair down" with.
One afternoon the guys were out running an errand, and the moms were chatting in the kitchen. It's rare that I'm in the kitchen "with nothing to do," so I thought it would be the perfect time to scrub the stovetop. (You didn't know there was a perfect time to scrub the stovetop, did you?)
I'm sorry there's no "before" picture. You would be tempted to report me to the Health Department, I'm sure. Trust me when I say it was grimy.
Beyond grimy.
Black, baked on grimy.
It had been haunting me that I had let it get so bad. I figured that while I visited with my friend, I could multi-task and tackle a cleaning job that I despise. I am not in a good habit of wiping down the stovetop every time, so needless to say, there was build-up.
So, a sponge and some Softscrub and I got to work. Before I knew it, Jessika had a sponge of her own and was scrubbing the other side. We worked and visited and scrubbed. Really. hard.
And what was a chore became a fun project. Sort of. I mean, the company made it less of a chore.
When the guys came home, they jumped into the act. (I told you the stovetop was bad.) Jess had googled tips and tricks for stovetops and found that fine grit sandpaper works. So, FishPapa brought out the belt sander. Seriously. And we got this baby spanking clean.
Some things I learned from the experience:
Good friends love you no matter what kind of messes you get yourself into.
Good friends will help you out of said messes without lecturing you.
Hard work is always easier to do with someone else to keep you company.
Don't let the sun set on your messes.
These are great lessons for life and for parenting. Especially that last one.
Check out Tammy's Recipes for more kitchen tips.