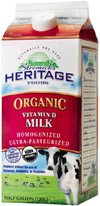 In addition to hosting giveaways for Stremicks Heritage Foods Organic Milk over the past several weeks, I have also had the opportunity to taste their milk, compliments of the company.
Here are some of the pros I see to purchasing this milk.
** Living in Southern California just an hours' drive from where this milk is produced, it was very easy to locate at my regular grocery stores. Check the store locator to see if your favorite store carries it.
** It's packed in half-gallon cartons exactly as you see here. I love the new-fangled cap. SO much easier to open than monkeying with the cardboard as in days of old. The packaging is light, obviously lighter than a full gallon jug, so it's easier for kids to manipulate.
** The milk is good for you. It is organic, after all.
** It also works well in a number of applications. We have used the milk in baking as well as for drinking. Our pancakes baked up light and fluffy. And the taste of the milk? It tasted clean. Not soapy clean, but you could just tell that it was fresh. We've really enjoyed it.
The only con that I can see is that this milk is a little more expensive than your regular, run of the mill milk. But, this isn't your run of the milk. It's pricing is comparable to other organic milks. And if you use this coupon and look for sales, you should be able to purchase it for a reasonable price.
Thanks to all who entered last week's giveaway. The following people will be receiving three coupons each good for one-half gallon of Stremicks Heritage Foods Organic Milk.
CC in Centerville
Lisa in Hebron
Geneva in Oxnard
Lorrie in Bel Aire
And you can win some as well!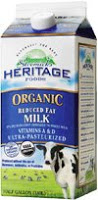 Stremicks Heritage Foods, with more than 35 years in the dairy business, was recently awarded the title, "#1 Tasting Organic Milk in America" by American Masters of Taste. To celebrate, Heritage Foods would again like to offer
four lucky LifeasMOM readers three free half-gallons of their organic milk this week and in the weeks to come.
And as a mom who cares what's going into her kids' bodies, I'm pleased to see that what they're offering is a quality product: certified organic, free of antibiotics, hormones or other yucky stuff, ultra-pasteurized for purity and longer shelf life, "Real California Milk" certified, and available with Omega-3 DHA. This milk is sold at most Southern California Vons, Pavilions, Ralphs, and Albertsons. Go here to see if your local store carries it.
Wanna try some? Click here for a money-saving coupon worth $1 off any half gallon.
Wanna win some? Fill in the form below.
If you're viewing this in a reader, click through to LifeasMOM so that you can view and complete the form. You can leave a comment, but only those who fill in the form will be entered to win. I am not going to sell your addresses or anything funky like that. Just want to have your contact info in order to send you your coupons.
Since there are so many winners this week, I really do want your address. So, please pick up your shoes, please shut the door to the frig, and please remember to leave me your address so you can win.
This giveaway will close Saturday at midnight PST. Be sure to come back Monday to see if you won. And if you didn't, you'll have more chances in the coming weeks.