This giveaway is now closed. Congrats to the winner: bennett81252@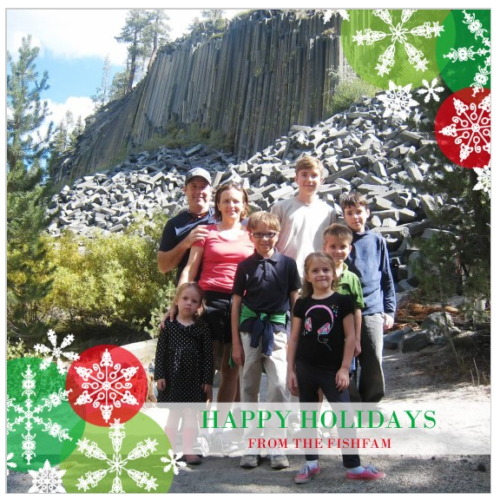 Remember that bit about planning ahead? There are less than six weeks until Christmas. Yes, really. As we've discussed previously, a little advance planning can ensure that your holiday season won't be a harried one.
If you haven't already done so, now's the time to start thinking about the holiday greeting cards to send out this year. The process can be super simple if you use digital photos and order your cards online. I made the above card in about 60 seconds of clicking around on Shutterfly.com
But first you need some pictures. Oh my! After years of sweating it out, often in the snow, with hungry, crabby kids, we've started taking family photos when we're relaxed and on vacation. But, if you didn't snap your annual family photo yet, no worries.
Just listen carefully, Little Grasshopper.
FishMama's Rules for Happy Family Photo Taking
Make sure everyone is clean, fed, and relatively rested. Change any diapers that need it.
Let your people know what you're doing in terms that they can understand. We want to give Nanna a pretty picture of us for her wall. It will make her so happy.
Set up the shot in advance of hauling out the kids. They are going to be fidgety enough without having to wait for you to figure out what you're doing. We have always taken pictures ourselves with the help of a tripod or a cleverly placed fallen log (as above). Don't make the kids stand and smile while you get your act together.
Be quick and decisive. Give directions with the reassurance that the quicker they cooperate, the quicker we move on to bigger and better things.
Have a bigger and better thing ready to do.
No crying allowed. Not even you dads.
Don't sweat it. It's just a picture. It's not worth an argument, tears, or worse. You're a happy family, for pete's sake.
And if that doesn't work?!
As you can imagine, getting eight people to look decent in a picture is always a challenge. And we don't always have time to set up a tripod or find a fallen log. If all else fails, make a composite greeting card with lots of different photos, like this one.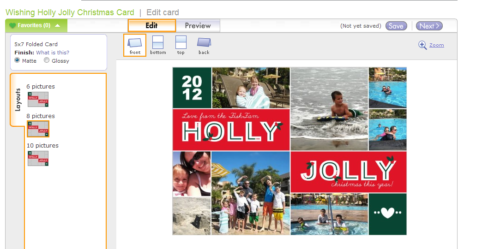 The predesigned layouts on Shutterfly make it super, super easy to just drag and drop your photos onto the card.
Get help from Shutterfly.com
In fact, in order to help families get the most out of their holiday greetings, Shutterfly has all sorts of good tips and tricks on their Shutterfly Family Photo Site that shares ideas for a Family Photo Day.
Shutterfly's currently holding a CardWorthy Photo Contest on their Facebook page from now until December 9. You can upload a photo into one of their 2012 holiday cards. There are different themes featured during each of the four weeks of the contest. The grand prize is a dream trip for a family of four with the winner choosing the destination!

Shutterfly regularly has some amazing deals and specials throughout the year, but especially during the holiday times. You can follow them through a number of social media channels in order to keep up to date with what they have going on:
Win a $100 promo code from Shutterfly
This week one Life as MOM reader will win a $100 promotional code for Shutterfly.
The code is good until 03/14/2013 (11:59 P.M. PST). Offer is good for $100 off total order at Shutterfly.com. Order must total more than $100 before taxes and other charges in order for discount to apply. The code can not be combined with other promo codes. Offer valid for one-­‐time redemption per billing address. Taxes, shipping and handling will apply.
To Enter:
Simply complete the information on this form. Please know that the information is only being gathered for the purposes of mailing you your prize in the event that you are chosen as the winner. This information will not be sold, traded, or given away.
This promotion is open until Wednesday, November 21, 2012, at 8 pm PST and is limited to US residents, 18 years or older. Friends and family of Jessica Fisher and Life as MOM are ineligible for entry. Please enter only once. The winner will be chosen randomly. The prize for this promotion is provided by and shipped by Shutterfly.com and/or its representatives. This post will be updated with the beginning of the winner's email address. Jessica Fisher and Life as MOM will not be held responsible for unclaimed or undelivered prizes.
Disclaimer: I am part of the Mom It Forward blogger network. Mom It Forward and Shutterfly partnered in support of this campaign.
Shutterfly compensated me for participation in this campaign. However, all thoughts and opinions are my own.