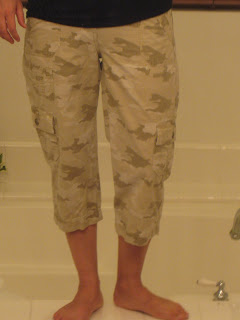 If you follow me or a few of my friends on twitter, you may be wondering, "What is all this talk about #magicalcapris? What are these mothers getting so silly about?"
Here is the post to dispell the rumors, lies, and plain ol' confusion about the #magicalcapris.
The magicalcapris are a pair of camouflage capri pants that I bought two years ago on Kohl's clearance. I had lost so much weight when we went on our rice and beans, beans and rice diet, that I was actually able to fit in a smaller size than normal. I was at my pre-SIX KIDS weight, believe it or not. And with four boys, camo seemed to be a natural fit for our family.
A year ago I leant them to a friend who wanted something new and fun to wear. I was pregnant at the time and certainly couldn't wear them. But the funny thing is that this friend is a lot more petite than I am. Her normal size is definitelyWAYYY smaller than my pre-SIX KIDS size. It seemed "magical" that we could both wear them. Then she had a baby and well, neither of us could wear them.
Earlier this year, we started a little friendly competition to see who could fit into these first. But, really these capris are #magicalcapris because they fit her and they fit me, which really goes against most laws of physics, thus the hashtag #magicalcapris.
Our ribbing each other — on twitter — caught the attention of our tweeples, as they say. And it's "gone viral" since then. Everybody wants #magicalcapris. And if they are what I think they are, they may just fit every bodystyle and shape, within reason.
And if we're going to tweet, we might as well tweet about something REAL. Not like Balloon Boy or something.
–FishMama
10/22/09
PS. Check out The Happy Housewife's new look! She wants some bad.