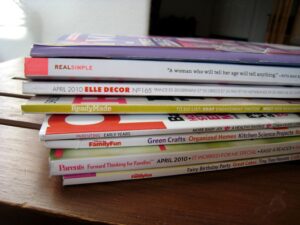 In the busy life as MOM, I've found that being able to flip through a parenting or cooking magazine gives me a refreshing glimpse of life outside my home. It inspires me to be more creative, be more organized, be more restful. Even if I don't copy the ideas I find, they help me think up some of my own.
Back in the day, I spent a huge chunk of change on magazine subscriptions. But, when we started cutting back, magazines were the first thing to go. My mom always lamented the fact that there were no quick reads at my house when she came to visit. I think she even resorted to reading the Yellow Pages once.
Well, I got her covered now since I found some inexpensive sources for magazines. My mom is here this week and in anticipation of her visit, I gathered up the magazines I had on hand. I was amazed to see the number and to realize the fact that I hadn't paid much for any of them.
Four Inexpensive Sources for Magazines
I have had great success with ordering magazines through Amazon, sometimes getting my favorite publications for as low as $5 a year. I don't mind paying fifty cents a month for a good read. And with homeschooling projects, it's nice to have back issues for the kids to use for cut and paste. This month, you can order a magazine subscription and get two years for the price of one.
You can also find some great magazine prices at Best Magazine Deals. This week Family Circle, Woman's Day, and Family Fun are available for $3.75 a year! Once you've added them to your cart, use the checkout code WKLYSPEC to get an added discount.
I've also enjoyed a free subscription to an internet magazine thanks to the free tradepub magazines available. There is a huge variety of trades represented, including business, construction, education, and food. You must qualify to receive the magazine.
Regional Parenting magazines are another great source of reading material. They also give you the head's up on what's going on in your area. Usually you can find them in your local library, doctor's offices, and stores like Walmart. This database offers a listing of parenting pubs' websites by state. Not all pubs have websites or are listed in this catalog, but many of them are.
What's YOUR favorite magazine?