It is almost twenty years since I packed up and headed off to college. Gosh, I feel old. The world has changed quite a bit since then, especially in the world of technology. I typed my papers up on a word processor/type writer! I didn't own a computer or a cell phone. Boom boxes, not ipods, were the mode of music listening. Blogs, facebook, and twitter didn't even exist!
I was thinking about this current deal at Vistaprint and realized there's a great option here for a graduation gift. While the college kids of today have gone digital, they still meet people face to face. Get free business cards with their personal info (blog, email, twitter) for a great graduation gift. You pay for shipping and processing.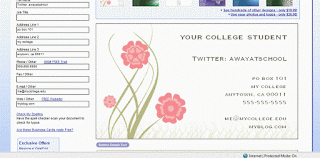 Vistaprint's ordering is super easy. I've ordered several sets of cards and pens from them in the past and I've always been pleased with the quality. The designs are really cute, and there's a large selection to choose from, too.


What's a good and frugal gift that you're giving for graduations this year?