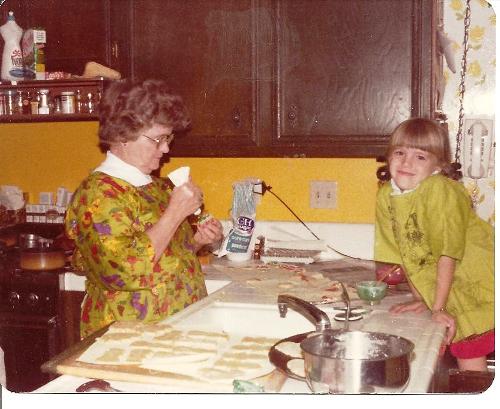 My Gramma John was born and raised in South Eastern Minnesota. She lived most of her life on a farm, was widowed twice, and raised eight kids — six of them boys.
Besides being a very brave and somewhat ornery woman, she was a fantastic baker. Here we are in my mom's 1970s kitchen making Christmas Cookies.
I loved to bake with Gramma John. She taught me, but more importantly, she was just fun to be with. I miss her terribly. She died just a few weeks after FishBoy10 was born. I cherish that uncharacteristic phone call that I received from her in the hospital just minutes after he was born.
There are a few recipes that are also precious to me — her donuts, her apple pie, and her cookies.
Legend tells that she was sly in sharing her recipes — and would often alter an ingredient in the list before passing it on. The recipe I have is the one she gave my mom, her daughter-in-law. Hopefully, they were on good terms that day!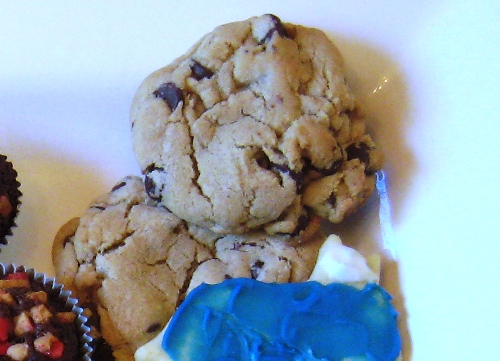 Gramma John's Blue Ribbon Chocolate Chip Cookies are award winning — in my book as well as at many a county fair in Minnesota. We added them to our Christmas Cookie List this year. They freeze wonderfully, baked or as unbaked dough. So, make all you want — and then some more.
Don't forget to check out The 12 Days of Christmas Cookies.

Curious about freezer cooking? Consider purchasing my cookbook, Not Your Mother's Make-Ahead and Freeze Cookbook from Amazon, Barnes and Noble, or your local bookstore. It's chock full with over 200 freezer-friendly recipes, planning pages, shopping lists, cooking plans, and basic and advanced how-to's to making freezer cooking work for any home, family, and lifestyle.