Grampa John & Alzheimer's
We are a participant in the Amazon Services LLC Associates Program, an affiliate advertising program designed to provide a means for us to earn fees by linking to Amazon.com and affiliated sites. We participate in other affiliate programs as well. For more details, please see our disclosure policy.
Alzheimer's disease is the 6th leading cause of death in the US. But there are ways to learn more about this devastating disease.
Meet my younger sisters and Grampa John. The year was 1977 -1978. That was the winter that my grandparents came at Thanksgiving and stayed until Valentine's Day. They lived in Minnesota, and it was their opportunity to leave the frozen tundra for a season.
It rained almost every day they were here.
This was obviously one of those dry days. Grampa John took my sisters out for a walk. Please note the Hamburglar stickers on Jamie's baby carriage and the old cars in the background. Love the vintage!
Grampa John was my dad's stepfather and my only grandfather.
Dad's dad, Willis, died when the kids were quite young. A few years later, my grandmother married Clarence Johnson, and eventually became Gramma John.
My mom's dad died when I was five, just a few months before this photo was taken. I didn't really know him. But, I knew Grampa John for about 16 years.
A long marriage until Alzheimers….
I think Gramma and Grampa John really loved each other. She already had eight children when he joined the scene. That's a big undertaking to become stepfather to eight children, aged 8 to 18. Brave man!
They never had "joint children." Their marriage lasted for over 35 years, ending when Grampa John died of the complications of Alzheimers.
He was already showing signs when he strolled my baby sister through the neighborhood. It was a sad time that followed, when he forgot things, became disoriented, and experienced drastic behavior changes.
I don't remember a lot of it. I was just a kid. But, I remember thinking that this was what it was to grow old.
Until my childhood pastor was diagnosed with Early Onset Alzheimer's when he was in his 40's. Then I just became fearful of antiperspirant.
What I've learned since then, is that Alzheimer's is not a normal part of aging, but a form of dementia. The Banner Alzheimer's Institute recently provided me with more information about the disease. I must confess that even though Alzheimer's hits pretty close to home, I was ignorant of a lot of these points or things that families should know.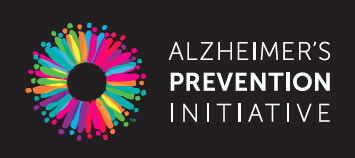 Consider these statistics about Alzheimer's
Alzheimer's is the most common form of dementia and is not a normal part of aging.
Alzheimer's is the 6th leading cause of death in the U.S. and the only one of the top 10 causes of death that cannot currently be prevented, treated or cured.
5.4 million Americans are affected by Alzheimer's. Someone is diagnosed every 6.9 seconds
In light of these points, chances are you and I know several people who may become affected by Alzheimer's. Since it cannot currently be cured, it's a serious thing to think about. I found this info-graphic particularly interesting in learning more about the disease.
The Alzheimer's Prevention Registry was created to:
Keep enrollees informed of latest news and advocacy to drive focus on Alzheimer's
Provide an unprecedented resource of potential study participants for prevention research
Offer valuable resources of simple, easy to understand news in partnership with AlzForum
It's free to sign up. Enrollees must be 18 years of age or older. Basic contact and demographic info as well as a few yes/no questions about your experience with Alzheimer's (optional as to how much you want to divulge) is requested. Your privacy is protected. The info you provide will be used to deliver to you relevant news and, if you choose, to connect you regarding potential research studies.
Somedays I'm just stunned about the vast information that we don't yet know about the world we live in. Here's an opportunity to participate in learning more about a deadly disease.
Do you have a personal connection with Alzheimer's Disease?
Dis­clo­sure: This post is part of a spon­sored cam­paign for the Ban­ner Alzheimer's Insti­tute Ini­tia­tive and The Moth­er­hood. All facts, statistics, and medical data above are provided by the Ban­ner Alzheimer's Insti­tute. All opin­ions are my own.